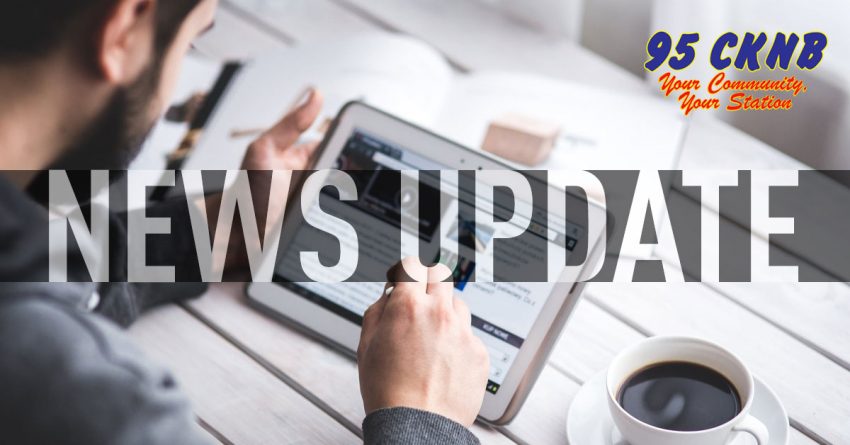 CKNB NEWS UPDATE THURSDAY MAY 7 2020
—-
CAM – TAKEOUTS OPENING
With restrictions easing in the province some restaurants in Campbellton that
have been closed are starting to reopen for take-out.
President of Downtown Campbellton Luc Couturier says restauarnts will be
following all recommendations from public health to keep staff and customers
safe.
Couturier says some of those precautions are restricting the amount of people
allowed in at one time and having physical-distancing rules in place.
Restaurants under phase-one of the reopening plan are only allowed to offer
take-out, drive-thru, or delivery.
—-
CAM – BORDER STRUGGLES
Premier Blaine Higgs has said Quebecers would be able to access Campbellton
for groceries and supplies, but some residents of Pointe-à-la-Croix have said
they've been turned around when doing so.
Pointe-à-la-Croix municipal council has hired lawyers to assist the
municipality in seeking clarification on who has access under the New
Brunswick Emergency Measures Act.
Mayor Pascal Bujold is calling on citizens to be calm as they work on the
issue, but understands its causing a lot of frustration.
The provincial governement for its part continues to assert Quebecers have
access to New Brunswick when necessary.
—-
CAM/MIR – SNOWBIRDS
It was an unexpected stop but the Canadian Forces Snowbirds landed at Charlo
Airport for lunch and a rest before paying tribute to health care workers in
the area.
According to the Tribute the nine-pilots made the stop after soaring over
Miramichi and Bathurst early yesterday afternoon as part of Operation
Inspiration.
From Charlo the Snowbirds flew over the Campbellton Regional Hospital and
Restigouche Hospital Centre with colored smoke streaming to honor the
employees battling COVID-19.
——–
NB ANOTHER CASE
There was another new confirmed case of Covid-19 announced  in New Brusnwick
yesterday…the second consecutive day with a new cse after over two weeks
without.
Chief Medical Officer, Dr. Jennifer Russel provided an update saying it was a
travel-related case….
Dr.Russel says the new case only learned of their exposure after returning to
New Brunswick. She says the good news is the person had limited contact with
anyone here and immediately contacted 811. The total number of cases for the
province is now 120.
Nationally,  there are now mor than 63000 cases in Canada and over 4,200
Covid-19 related deaths
—-
NB – LEARNING PLAN TECH
Education Minister Dominc Cardy says the province is spending
860-thousand-dollar to purchase computers and other technology to facilitate
at home learning.
Cardy says the purchases included 1-thousand Ipads with data plans, 500
laptops and 300 'WiFi' hubs for students with no internat access at home.
At home deliveries of the new tehcnology are expected to begin soon  – with
each student given a designated date for returning the equipment.
Cardy says the money for the equipment is coming from unsused funds that had
been earmarked for bussing and school meal programs.
—-
NB – ONLINE ARTS FUNDiNG
New Brunswick is offering funding for online artistic and cultural
performances during the COVID-19 pandemic.
Artists who've had an exhibition or performance cancelled due to the pandemic
can receive up to two-thousand dollars for an artistic presentation on social
media.
Arts organizations and similar associations may also apply but all proposals
must respect physical distancing and self-isolation requirements.
The tourism department earlier partnered with Music N-B to provide similar
help to professional musicians.
—-
NB/MCTN – REMAINS IDENTIFIED
RCMP have identified the remains fouind in Lakeville on Saturday as
27-year-old Adam Grant Howard.
Police say they are investigating the circumstances of his death as
suspicious. Howard was last seen at a home on Route 115 in Irishtown on
January 6th and was reported missing on January 8th.
RCMP say they received a report that personal belongings of Howard had been
found on a wooded lot in Lakeville leading to the discovery of his body.
Police are investigating the circumstances surrounding his death, including
if anyone was involved and how his body came to be at that location.
—-
NB – FISH PLANT MARKETING
The Higgs government expects to spend $400,000 to target potential workers
for seafood processing faciities.
Many processors are facing a labour shortage after the province banned any
additionial temporary foreign workers from entering the province.
Brunswick News is reporting planning documents have been drawn up for a
campaign highlighting the opportunities and incentives. The campaign is
expected to run province-wide, with an extra focus on areas within the target
range of processors in need of workers. The government had said before it
would work towards finding studenst and others to fill some of those vacant
jobs – but processors have expressed some doubts – and also say the
government is underestimating what effect the loss of the skilled,
experienced workers will have on their production.
—-