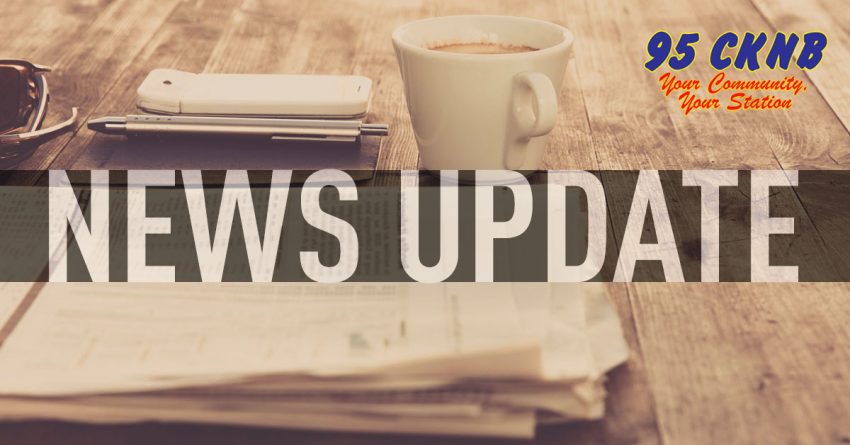 CKNB NEWS UPDATE THURSDAY NOVEMBER 15 2018
FIRE  RF
A blaze erupted early yesterday (Wed) afternoon at 370 Dover Street.
When fire crews got there, smoke was coming out of the roof of the
undercoating section of Campbellton Auto Collision.
The building was severly damaged.
Over 20 firefighters battled the bitter wind for over two hours to bring the
fire under control.
—-
*CAMP AREA FUNDRAISER  RF
The Northern Light says that eight New Brunswick hospital foundations have
launched the annual Northern Star Campaign, to raise money for hospitals.
Stars are being sold at UNI Financial Corporation locations and some
businesses.
You can buy a mini Christmas tree for anywhere between two dollars to 100
dollars.
That will aid hospitals in Campbellton, Bathurst, Caraquet, Grand Falls,
Lameque, Saint-Quentin, Sainte-Anne-de-Kent and in Tracadie.
Power outages              (NB power thu.am)
There are still thousands of people without power in the province after the
wind storm.
There were about a thousand people in Moncton out this morning…and several
hundred from Hillsborough down to Alma. So there could be more school
closures because of the lack of power.
There are also a lot of people still in the dark on the Acadian Peninsula.
*NB GALLANT TO RESIGN
Former premier Brian Gallant plans to resign as Liberal leader at 11 this
(Thur) morning.
After being cut down to a mere 21 seats in the last provincial election, the
Grits then lost a confidence vote on November 2nd.
The Tories, under leader Blaine Higgs, were then sworn into power.
—-
*NB FREDERICTON SHOOTING CASE
48 year old Matthew Raymond has received a new lawyer.
Raymond is charged in the August 10th shooting deaths of two Fredericton
police officers and two civilians.
Alison Ménard of Lemieux Ménard and Company of Moncton appeared on behalf of
Raymond in Fredericton provincial court yesterday. (Wednesday)
She replaces defence lawyer Nathan Gorham of Saint John.
Judge Julian Dickson will make a decision on November 21st on details related
to the Crown's request for a 60-day psychiatric assessment of Raymond.
POSTIES  RF/WIRE
Canada Post is hoping to bring an end to job action by its employees before
the Christmas rush gets underway.
The rotating strikes by CUP-W union members has already created a historic
backlog of undelivered parcels.
CUP-W says its national executive board would be meeting to discuss the next
steps.
—-\
MARIJUANA SHORTAGES  RF/AG. REPORT
Industry insiders say the marijuana supply shortages that have plagued many
provinces in the first month of its been legal will likely persist for years,
as growers aren't producing enough to meet demand.
In the Maritimes, Nova Scotia and New Brunswick have all reported varying
degrees of shortages.
New Brunswick was forced to temporarily close more than half its stores,
while Labrador's only legal pot store said it was forced to temporarily close
after being without any product for nearly two weeks.
—-
Veterans-Ombudsman                   (wie thu.am)
The Trudeau government has picked a former army officer who served in
Afghanistan and commanded CFB Gagetown as the new veterans' ombudsman.
Craig Dalton takes over from Guy Parent, who spent the past eight years in
the arm's-length position that was first created in 2007.
Dalton spent 25 years in the Canadian Forces and, in addition to commanding
C-F-B Gagetown and the provincial reconstruction team in Kandahar, was
commander of the Royal Regiment of Canadian Artillery.