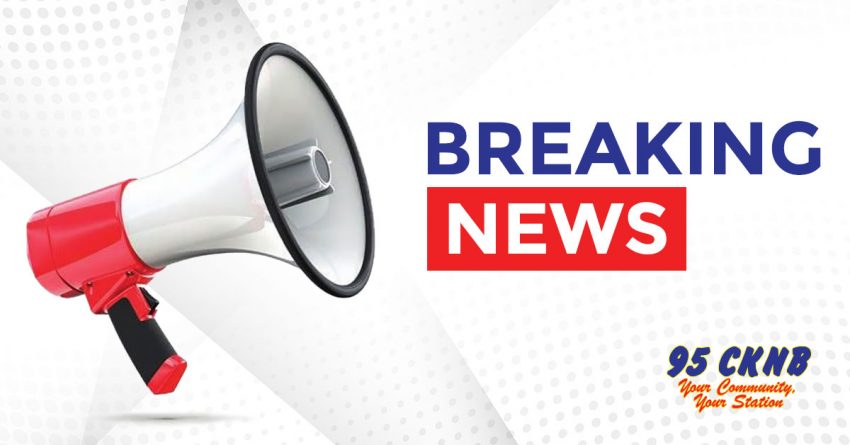 CKNB NEWS UPDATE THURSDAY OCTOBER 8 2020
—-
CAM – TAX BASE STUFF
This year's community tax base numbers show Campbellton has experienced a
significant increase of close to 9-million-dollars.
Atholville wasn't so lucky on the other hand seeing a drop of close to a
million that could be due to the closure of two schools.
Mayor Michel Soucy tells the Tribune the closing of a school in Atholville
and one in Val d'Amour equal 619-thousand-dollars of the loss.
Dalhousie also saw a drop in its tax base, but officials say they are looking
into the reason why. Charlo, Balmoral, Eel River Dundee and Tide Head all had
increases.
—-
CAM/NB – QUEBEC BUBBLE AS IS
Despite the mayor of Pointe-à-la-Croix calling for a relaxation of people
entering his community Premier Blaine Higgs appears unmoved.
Pascal Bujold has said a checkpoint entering his community is seeing people
from Quebec being turned away needing essential goods and services.
Higgs asked for the checkpoints to be in place to restrict Quebec residents
from entering Pointe-à-la-Croix and Listuguj First Nation so they could stay
in the mini-bubble.
At yesterday's briefing the Premier said he understands their are complaints,
but its what needs to be done to protect the community here in New Brunswick.
—-
CAM – LIGHT LETTER
At this weeks Campbellton Finance and Administration Committee meeting a
letter of appreciation was received from Downtown Campbellton.
According to the Tribune… the business improvement agency thanked council
for the recent upgrades to the sidewalks and light poles.
President Luc Couturier says traffic is down for almost all buisnesses in the
downtown since the pandemic, but the upgrades will go far in helping promote
the city next year and into the future.
—-
CAM – FISHERY SUCCESS
Listuguj First Nation says the moderate livelihood fall fishery was a success
despite ongoing opposition from the Department of Fisheries and Oceans.
A release from the band says 25-thousand-pounds were landed with 10-thousand
being distributed to community members and the rest stored for future sale.
Councillor Sky Metallic says the sale will help cover the operating cost of
six boats on the water and the 38-employees hired for the season which ended
Sunday.
Concerning opposition to the self-regulated fishery from DFO, Chief Dary Gray
says its disappointing the government has chosen to stand in their way
instead of working with them.
DFO has refused to allow Indigenous fishers to sell their catch which Gray
says is in violation of their treaty rights.
——-
NB – HEALTH SURVEY
A new survey shows there has been no improvement to key areas of the patient
care experience in New Brunswick hospitals over the last three years.
According to CBC the survey by the New Brunswick Health Council shows
improvements are needed in areas such as transparency in public reporting and
targets for patient care.
CEO Stephane Robichaud says the survey showed a drop in people saying the
hospital took their safety seriously and patients saying they were completely
informed during admission.
Robichaud says after a decade of monitoring its clear the Health Department,
Vitalite, and Horizon need to address the lack of improvement.
—-
NB – OUTBREAK VERSION 2
The COVID-19 outbreak at a Moncton long term care home has grown with 17
additional cases reported yesterday.
Chief Medical Officer Dr. Jennifer Russel says there are now 19 cases linked
to the outbreak with 13 being residents, 4 staff, and 2 family members of
residents.
Russel say the rapid response team remains on site with all residents and
staff having been tested and most residents have been isolated in single
rooms.
How the virus got into the home is still under investigation with extensive
contact tracing currently underway.
There were also two public exposure warnings issued for the Costco Optical
Center and St. Hubert Restaurant in Moncton. People who visited those
locations after October 1st are encouraged to monitor for symptoms.
—-
NB – Border screening
The looser restrictions on border crossings at the Nova Scotia and PEI
boundaries are in effect today.
Travelers from within the Atlantic Bubble will find it simpler to cross into
New Brunswick.
Active screening is being suspended if you are coming from the Island or Nova
Scotia as you won't be asked to stop to show that you have registered.
However, Canadians from outside the Atlantic Bubble still need to
pre-register through the government of New Brunswick website even if they
have done their self-isolation in another Atlantic Province.
—-