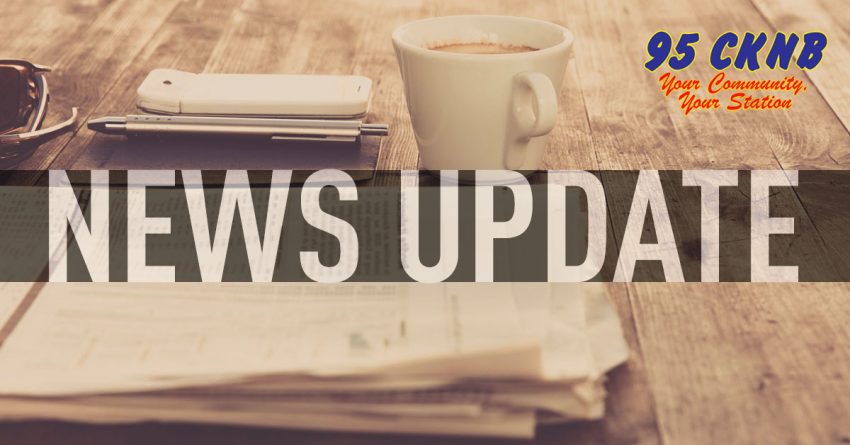 CKNB NEWS UPDATE THURSDAY SEPTEMBER 24 2020
—-
CAM – KEDGWICK BREAK IN
RCMP are reaching out to the public for help in solving a break and enter at
a cottage in Kedgwick River.
Police say the break in happened on Fogs Brooks Road in the early morning
hours of August 27th… no one was in the building at the time.
Surveillance footage shows one or more people showed up in an SUV and broke
into the cottage and RV parked on the side.
Some of the items stolen were construction tools and materials, propane tanks
and a television. Anyone with information is asked to contact RCMP.
—-
CAM – GASPE BUSINESS
Campbellton city council will be approaching local business for ideas on how
to get more tourists in the city during the winter.
According to the Tribune, at their recent meeting Councillor Gilbert Cyr
stated they are not tapping into the million snowmobilers getting to
Edmundston and turning to the western border.
Campbellton had invested in the Northern Odyssey with Edmundston and
Bathurst, but the pandemic put the initiative on hold.
Deputy Mayor Sterling Loga said businesses are in trouble and council needs
to help. Council will be speaking with local business to garner new ideas.
—-
CAM – FACEBOOK MEETINGS                 BILL/TRIBUNE                    WED AFT
A proposed bylaw in Campbellton could see city council return to streaming
all meetings on social media.
During the pandemic meetings were streamed live and the Tribune reports
Councillor Marco Savoie said they had lots of citizens tuning in.
Savoie made a motion that meetings once again be put on social media saying
it keeps people informed and it's more transparent.
CAO Manon Clouiter said there are procedural and technical items that need to
be worked out but a bylaw is being drafted that could make it happen.
—-
MIR/CAM/NB      – PENINSULA TOURISM
The New Brunswick staycation promotion has helped offset tourism loses on the
Acadian Peninsula with an increase of visitors from the Anglophone south.
Officials with the Peninsula's Tourism Office tell CBC normally they only see
less than 20-percent of english travellers from within the province.
This year however with pandemic measures in place that number has increased
to as high of 45-percent with a noticeable increase in english being spoken
in the region.
Operators in the area reported visitors from places that normally don't show
up on the Peninsual such as Fredericton, Saint John, Sussex and
Perth-Andover.
——-
NB – RAYMOND TRIAL RESUMES
A paramedic student has told the trial of the Fredericton man charged in the
2018 fatal shootings of four people that Matthew Raymond muttered a number of
things while being transported to hospital that day.
Ceilidh Bowen says she heard Matthew Raymond say "They were outside my
window. They were taunting me. It's not my fault, they made me do it."
Raymond faces four counts of first-degree murder in the deaths of Fredericton
Police constables Robb Costello and Sara Burns as well as civilians Donnie
Robichaud and Bobbie Lee Wright.
The trial resumes this morning after being suspended last week.
——-
NB – NEW CASE
New Brunswick is reporting one new case of COVID-19 today related to travel
outside the Atlantic bubble.
Health officials say the case involves a person in their 60's in the
Miramichi region who is self-isolating.
That brings the number of active cases in New Brunswick up to four.
Elsewhere in Canada climbing numbers appear to support Prime Minister Justin
Trudeau saying Alberta, B.C., Ontario and Quebec are in a second wave.
The four provinces added most of the nearly 11-hundred new cases yesterday
with active cases now over 10,500.
—-
NB-Flu vaccinne
The new flu vaccine is on the way. Pharmacists expect the first of the
400-thousand doses ordered will be ready to give out the first week of
October.
According to CBC pharmacists safety is a top concern and that's why many will
be asking people to make appointments, so people aren't waiting around in the
store for an extended period.
They also want people to take the usual precautions…wear a mask, wash or
sanitize your hands when entering the store… and don't come in at all if
you are showing symptoms.
Pharmacists will be taking standard precautions as well.
—-