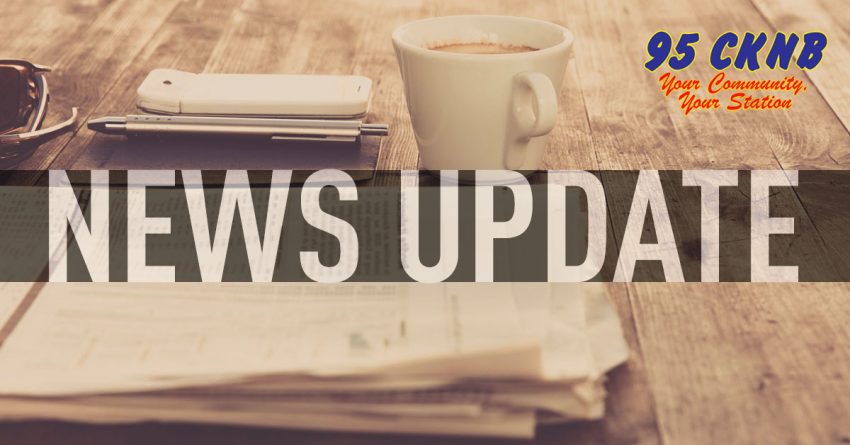 CKNB NEWS UPDATE THURSDAY SEPTEMBER 3 2020
—
CAM – NGOLA UPD
A CBC investigation has cast doubt that a publicly accused doctor was the
source of the Covid-19 outbreak in Campbellton.
The indepth look into the outbreak, along with a private investigation, has
found a number of other doctors had been commuting to work in Cambellton
around the same time.
It also suggests Dr. Negola had been in contact with public health to get
permission to travel to Quebec to pick up his daughter  – contrary to what
was stated about his actions publicly.
Dr.Ngola says he was forced to leave Campbellton and the community he served
for seven years after he and his family were subjected to numerous threats,
many of them racist
—-
CAM – CIVIC CENTER OPENING
Campbellton City council has been told a plan is in motion to reopen the
Campbellton Regional Memorial Civic Centre soon.
The Tribune reports CAO Manon Cloutier told a committee meeting Monday that
building management is working on the hows and whens of a plan to reopen the
center in the next few weeks.
Cloutier said the priority is getting the two ice surfaces open first.  With
minor sports and the Tigers finalizing a return to the ice she hoped the
plans would align.
Council was told the pool is not a priority, but it should be open by October.
—-
CAM – LEGERE SUPPORT
Campbellton City Council is putting their support behind Miramichi council in
objecting to the potential day parole of serial killer Allen Legere.
Miramichi councillors voted to write a letter detailing the fear Legere
created in the community demanding he not be released, and according to the
Tribune Campbellton will send Miramichi a letter of support.
A parole hearing for the 72-year-old known as the Monster of the Mirimichi
has been delayed till November. Its believed Legere is in custody in an
Alberta prison.
—-
CAM – RIVER PULP WORK
AV Cell in Atholville has submitted an application to the Department of
Environment to work on the river east of Tide Head Beach for more water
supply for the pulp mill.
Tide Head Mayor Randy Hunter tells the Tribune they have been working with
the company's engineers in regards to the work from the beach to the pump
house.
Hunter says the last time the work was done was 25-years ago and
environmental regulations have changed a lot in those years, but silt is
effecting water levels in that area.
Government officials say an application has been received and the proposed
project us under review.
——–
NB – VOTING INCREASE
Elections New Brunswick's call for people to vote by mail or early at
returning offices appears to be working.
Chief Electoral Officer Kim Poffenroth says there has been a significant
increase in people applying for mail-in ballots and line-ups at returning
offices for people interested in voting.
She says any opportunity that people can take advantage to eliminate crowding
in polling stations is a good thing.
Poffenroth says under the circumstances of a shortened election and pandemic
measures things are going as well as can be expected so far.
—-
NB – HUGS AND VISITS
Some families say the loosening of restrictions at long term care homes on
Friday was poorly implemented and created confusion.
Greg Loosley of Sussex tells CBC the reintroduction of designated support
people led to confusion around things such as physical contact and visits
outside the facility.
Loosley says he understood he would be able to hug his wife of 53-years for
the first time in six-months and take her home for the day, but
administrators told him at first that wouldn't be possible.
The province has since cleared up any confusion specifically saying hugs are
allowed with the designated person and off site visits are permitted much to
the delight of families.
—-
NB – COVID UPD
One new cases of Covid-19 was reported in New Brunswick yesterday.
Public Health says the case, in the Moncton region,  involves a temporary
foreign worker in their 20's who has been self-isolating.
The case bring the number of active cases of the virus in the province back
up to four.
Across Canada we added an additional 5-hundred cases yesterday as we approach
130-thousand with over 57-hundred still active.
—-
NB – CAMP WRAP
Party leaders were talking balanced books, school food and renewable energy
on the campaign trail yesterday.
Liberal Leader Kevin Vickers promised to balance the province's books by the
spring of 2023…but said his government would run deficits in its first two
years to assist economic recovery from Covid-19.
P-C Leader Blaine Higgs restated his commitment to establish a province-wide
school food program to begin in the fall of 2021. He also spoke of his
government's commitment to raise pay for early childhood educators.
Green Party Leader David Coon announced his party's plan to convert the
province to 100% renewable energy by 2035, as well as plan to provide zero
interest loans for solar panels and to amend legislation to make it easier
for developers, municipalities and First Nations to pursue their own renewable
energy sources.
—-