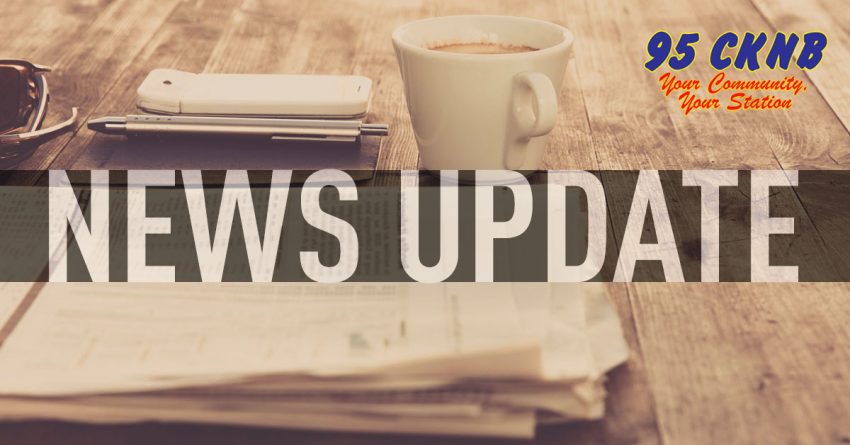 CKNB NEWS UPDATE TUESDAY APRIL 2 2019
CAM-RRSC MUTUAL AID
Member communities that make up the Restigouche Regional Service Commission
have all agreed … they have each others back.
The Tribune reports … members of the commission reached a formal mutual aid
agreement late last week.
The agreement streamlines the process for requesting aid from neighboring
communities in an emergency.
The main pilar of the agreement is that aid will immediately be made
available without any political procedure, when one member declares a state
of emergency.
It also provides each member with a list of equipment on hand in other
muncipalities.
—-
CAM-WANTED ARREST
A 38-year-old man has been handed over to police in Quebec following his
arrest late last week in Dalhousie.
RCMP says they located a man at a Dalhousie residence who was wanted in
connection with a home invasion in Nouvelle, Quebec in March and attempted to
arrest him last Thursday.
The Tribune reports … the man barricaded himself inside, forcing the RCMP
to close down parts of Adelaide Street on Thursday morning and evacuate some
nieghboring residents.
The suspect was eventually arrested without incident on Thursday afternoon.
He now faces charges in Quebec.
——-
*NB-CROSS BORDER GAS
Some experts are predicting there will soon be cross border shopping for gas
as a result of New Brunswick having a carbon tax.
New Brunswick is among four provinces that refused to impose their own
emissions pricing, so Ottawa imposed a tax as of yesterday.
Gas prices rose 4.42 cents per litre plus HST.
Officials at the Canadian Fuels Association says the patchwork system of
carbon pricing plans across the country is especially pronounced in the
Atlantic region.
—-
*NB-NURSING HOME DISPUTE
The group representing unionized New Brunswick nursing home workers has
rejected a tentative proposal to send their contract dispute to binding
arbitration.
The New Brunswick Council of Nursing Homes Unions says Premier Blaine Higgs
is only offering the illusion of binding arbitration after he said he'd
consider the option if the arbitrator was limited to offering wage increases
of no more than one per cent a year.
Council president Sharon Teare says Higgs fears an impartial arbitrator would
see the ongoing crisis faced by nursing home workers and residents.
More than four-thousand workers have given the council a strike mandate to
back contract demands but the province has obtained a court order banning any
job action until at least April 17th.
——-
NB-Workplace code
A new code of practice against workplace violence and harrassment is in
effect today for workplaces with more than 20 employees. Companies such as
health-care, pharmacy, delivery services and others must develop a code,
regardless of the number of employees.
Laragh Dooley at WorkSafeNB says it'll make employers think about the risks
their employees face/ She says these new regulations are just a start in
making sure people are protected.
—-
—-
MCTN-Homeless again homeless
The homeless who had been staying in emergency shelters for the winter are
back out on the streets…mostly.
Dozens of people had to leave when the two emergency shelters closed their
doors yesterday. CBC reports some had a small tent and sleeping bag under
their arms….but others were able to find low cost housing, sharing with
others they met in the shelter.
The Social Development Department says new beds have been added at two
permanent shelters with 56 additional beds at Nazareth House and Harvest
House for individual who spent the winter at the former fire station on
Assomption Blvd. The government says it's also providing  $659,000 to help
people in Moncton, Saint John and Fredericton find housing and access health
support and addiction services.
—-
NB/MCTN-Nurses-Union
The New Brunswick Nurses Union says allegations that a nurse inappropriately
administered a labour-inducing drug to pregnant women are concerning.
But it says it is obliged to offer legal assistance in respect to her firing. 
Paula Doucet, president of the New Brunswick Nurses Union, said they were
told last week one of their members was fired after allegations that a nurse
at the Moncton Hospital had given two women oxytocin.
She said in a release that any time there are allegations of potential harm
to patients or compromise to patient safety, they are "very concerned and
empathetic for all those involved _ the patients, the families and the
staff."
—
ALL-Hot hot hot
A new scientific document from Environment and Climate Change Canada
indicates this country is warming up twice as fast as the rest of the world.
And its authors warn the trend is "effectively irreversible".
The report calls for urgent action to reduce emissions, saying the science
supports the fact that adapting to climate change is imperative.
The average temperature in Canada is now 1.7 C higher than it was 70 years
ago. The Canadian Arctic is even warmer, with a 2.3 C increase.
—-