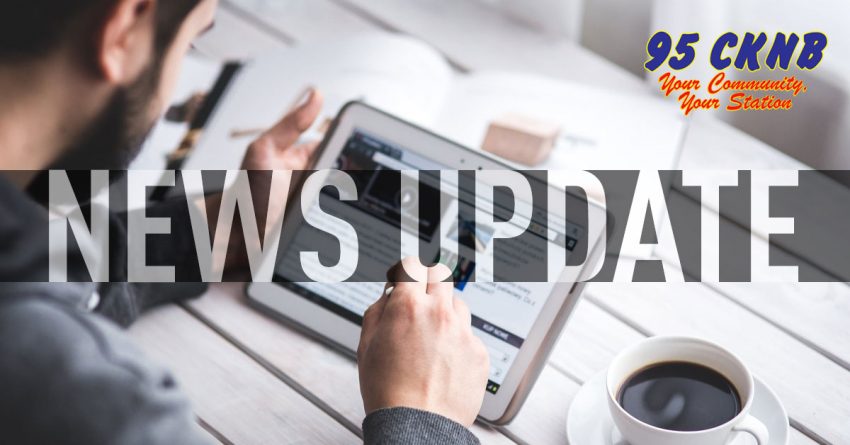 CKNB NEWS UPDATE TUESDAY APRIL 7 2020
—-
CAM – SIREN PARADE
A thank-you that has been spreading across the globe landed at the
Campbellton Regional Hospital Sunday night to honor healthcare workers
battling COVID-19 on the frontlines.
According to the Tribune fire departments from around Restigouche County
drove from Dalhousie, through Atholville, to Campbellton arriving around
7:00pm with lights and sirens blazing.
Staff at the hospital came out and clapped as the thank you from the first
resonders extended for two full minutes to show the appreciation of the
community.
—-
CAM – NO TICKETS
As of late last week no tickets have been issued to Quebec residents entering
Campbellton for non-essential travel.
New Brunswick Department of Public Safety spokesperson Coreen Enos tells the
Tribune no tickets have been handed out but they are investigating and
responding to complaints of non-compliance in the region.
Sgt. François Côté of the Campbellton RCMP says officers have been involved
in enforcement in the city and have stopped motorists with out of province
plates.
Cote says when the person is not in the city for essential travel they are
immediately escorted back to the bridge where they could be fined by Public
Health.
—-
CAM – PAULIN ON CURVE
In her latest update Campbellton Mayor Stephanie Anglehart-Paulin says
staying home today will help fight the virus in the long run.
Anglehart-Paulin says trips should be for essentials only with one person per
household going out.
——–
NB   PLUS TWO
Two new cases of Covid-19 were reported yesterday in New Brunswick, bringing
the total number of confirmed cases in the province to 103.
Chief Medical Officer Dr. Jennifer Russel says the news is encuraging
compared to the situation elsewhere –  but warned that the fight is far from
over.
Russsel says the two new cases were in the Moncton region and both were
connectied to a previosuly known travel case.
Nationally the federal government is reporting over 16500 cases and 323
deaths.
—-
NB – TASK FORCE
Premier Blaine Higgs announced a new pandemic task force yesterday.
The premier says the task force will have the authority to quickly decide how
to respond to the evolving Covid 19 pandemic.
Health Minister Ted Flemming says the health care system can't afford to
react slower than the speed of the  virus.
Flemming says the task force will work with the provincial EMO and his office
to quickly implement any decisions.
—-
NB – US MASK ISSUES
New Brunswick might be getting a 100-thousand masks from Ottawa but a large
order to the province has been put on hold after US president Donald Trump
ordered manufacturer 3M to prioritize America.
Premier Blaine Higgs tells CBC the order hasn't been cancelled and they
remain optimistic, but have not been given a firm delivery date for
295-thousand masks they had ordered.
Late yesterday 3M announced they have struck a deal with US officials to
allow the export of masks to Canada, but there was no word on when orders
would start being filled.
—-
NB – RAYMOND UPDATE
A judge has rejected the request that Matthew Raymond's latest fitness
hearing can be heard by judge alone.
Raymond is charged with four counts of first degree murder in the alleged
killngs of two Fredericton police officers and two civilians.
According to CTV a 38-page decision released yesterday ruled Raymond is
unable to adequately respond in his current medical circumstances.
He had been found medically unfit by a jury last October, but responded to
medication prompting the courts to schedule a "re-fitness hearing" that will
now need to have a jury present.
—-