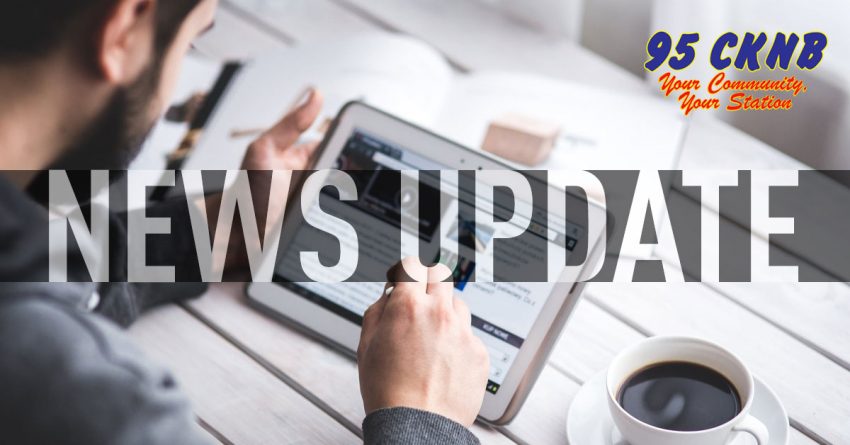 CKNB NEWS UPDATE TUESDAY AUGUST 4 2020
—
CAM – BUBBLE EXTENSION                  BILL/RELEASE                    TUE AM
There were some extended waits on the bridge reported, but the mini-bubble
between Campbellton and communities across the river officially opened over
the weekend.
Campbellton Mayor Stephanie Anglehart Pauline says she would like to thank
everyone involved in the ongoing discussions to make the move happen saying we
are now truly Restigouche strong.
The mayor says the economic prosperity of the City of Campbellton has relied
heavily on the inclusion of our neighbors and she is pleased to re-welcome
them to the city.
Anglehart Paulin says the city will work with regional representatives on
both sides of the border to ensure the health and safety of citizens.
—-
CAM – RRSC ON BUBBLE
Officials with the Restigouche Regional Service Commission say they are very
pleased with the twinning with neighboring Quebec communities.
Chair Brad Mann sent a release thanking Premier Blaine Higgs for recognizing
the importance of the economic and social relationship between the
communities.
Mann says he's also grateful for the constant communication with Listuguj
First Nation and Pointe à la Croix during negotiations on the move.
The new chair says allowing day trips on each side of the border is a first
step.
——–
NB – TOURIST NUMBERS
The Department of Tourism, Heritage and Culture says recent data shows more
New Brunswickers are out exploring the province during the pandemic.
Director of Parks Allen Bard tells CTV they've seen an increase in people
getting outside and going camping in their own province.
Last year's numbers show about 24-thousand New Brunswickers booked provincial
park spots last year to this point, but this year close to 31-thousand have
made reservations.
Bard says he thinks people are discovering their home province for the very
first time making them realize how beautiful it is.
—-
NB – COVID UPDATE
No new cases were reported over the long weekend in New Brunswick and all
infections have recovered meaning there are no active cases.
Overall, the Atlantic bubble faired well yesterday with no new cases
announced and active case numbers continuing to fall.
Nova Scotia had two people recover meaning they are down to two active cases,
PEI has none, and Newfoundland/Labrador is showing four.
Nationally over the long-weekend we added over 12-hundred new cases
surpassing 117-thousand, along with 18 deaths bring the number of virus
related deaths to 8947.
—-
NB – NOMINATIONS
Premier Blaine Higgs is not helping speculation of a possible fall election
with a recent push to nominate canidates in Conservative held ridings.
According to the Telegraph Journal 17 nomination dates are now set to happen
this month leaving only a few to be named in ridings they won in 2018.
There are three remaining incumbent nominations not set yet: Carleton-York's
Carl Urquhart, Carleton MLA Stewart Fairgrieve, and Southwest Miramichi MLA
Jake Stewart.
With the move ramping up speculation of a possible election the opposition
Liberals, Green's and People Alliance have all stated they don't want an
election during a pandemic.
—-
NB-PC Nominations
The P-Cs continue to move ahead nominating candidates in more ridings while
Premier Blaine Higgs continues to say he doesn't really want a fall
election…but isn't ruling it out.
17 nomination meetings are set for this month, according to Brunswick News.
Premier Higgs has been trying to downplay the possibility of a fall election
recently when talking to reporters but also always says he hasn't decided.
The Liberal, Green and People's Alliance parties all say they don't want a
fall vote.
—-