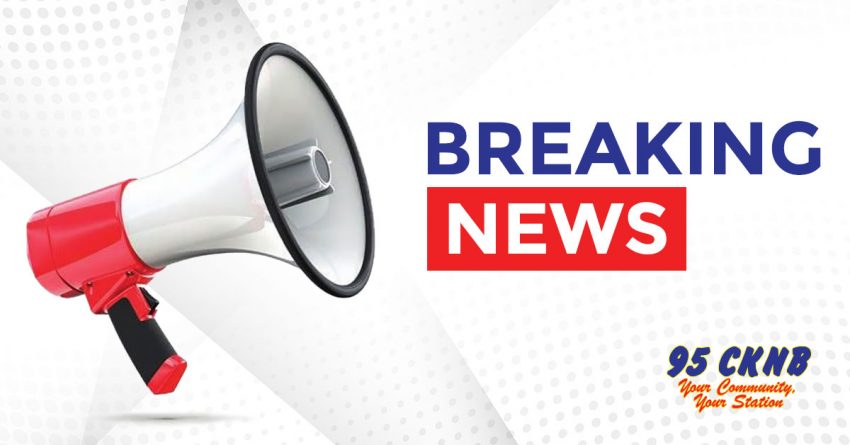 CKNB NEWS UPDATE TUESDAY JANUARY 12 2021
——–
NB    COVID UPD
New Brunswick has now confirmed over 800 Covid infections since the outset of
the pandemic. Chief Medical Officer, Dr. Jennifer Russel, announced a eight
straight day of double digit increases this afternoon.
201 of those cases have been reported in just the first 11 days of January –
with one of those individuals now in hospital. Dr .Russel did have some good
news today, reporting no new infections have been detected at any of the four
long term care homes where cases were discovered last week.
Meanwhile, Edcuation Minister Dominc Cardy confirmed today that cases were
detetced at five schools over the weekend including Académie Notre-Dame and
École Au quatre vents in Dalhousie in, Polyvalente Roland-Pépin in
Campbellton; Woodstock High School and the Townsview middle School in
Woodstock. Those schools were all closed today some already planning for a
switch to on-line learning. Cardy also confirmed a cases at the Garderie Tic
Tac Toe daycare in Dalhousie – teh six early learning centre in teh province
to confirm a case in the past week.
—-
NB-VACCINE ROLLOUT
New Brunswick's health minister is retracting comments about an idea to
receive vaccine doses faster in the province
Health Minister Dorothy Shephard tells CBC New Brunswick could vaccinate more
people if there were more doses available, and to obtain those doses, supply
could be diverted from slower provinces
Last week Premier Blaine Higgs said New Brunswick could vaccinate 45,000
people per week if it had enough supply.
New Brunswick has been fourth fastest among provinces in getting doses out
Ottawa didn't comment on the idea of diverting vaccines but says everyone in
New Brunswick will be vaccinated by fall.
As of Monday, 7,700 New Brunswickers had received vaccine, including 1,862
who have had the required two doses.
—-
NB-RADIO HOST SENTENCING
The sentencing of a former Fredericton radio host has been delayed yet again
Trevor Doyle pled guity in a Puerto Rican Court to one count of travel with
intent to engage in illicit sexual conduct with a minor.
he has been held in Puerto Rico since his arrest in April 2019
Doyle has continuously asked for delays, the latest being his 6th, because
Covid-19 restrictions keep him from attending in person,
according to CBC his hearing will now be scheduled for April 7.
Doyle worked at Capital FM, a radio station owned by Bell Media, but was
removed as an employee after his arrest
—-
NB/SJ/CAM-Vaccine clinics
Vaccination clinics are being held today in Saint John, Fredericton,
Campbellton and Edmundston for priority groups.
The province has acquired more ultra-cold freezer units and has sent them to
hospitals in several zones so they can safely store the Pfiser vaccine until
it goes into people's arms.
As of yesterday, 7,732 doses had been administered in the province. Over
1,800 people have now had the two doses recommended by Pfiser and Moderna.
Dr. Jennifer Russell admits it's been a slow process so far because there is
such a limited supply of vaccines right now but says the availability and
delivery of vaccines will ramp up in the coming months.
—-
NB/MON-BUSINESS SURVEY
A fall survey shows the majority of people are still working from home in the
province.
The survey from October, shows after 10 months since the start of the
pandemic, office business have many employees working from home
The report states two-thirds of businesses have some, if not all, their
employees working from home.
all responding businesses said they will implement a 'hybrid model' so
employees can split their time between home and office
With Public Health protocols in place, many businesses had to re-organize
work spaces or take additional measures
According to global news Moncton Chamber of Commerce, Working NB and several
other groups plan is to focus on shop-local marketing/
—-
NB – BUDGET CONSULT
New Brunswickers are being asked for their input and ideas as part of the
pre-budget consultation process.
Members of the public have until February 11th to complete an online survey
on the next budget or provide their comments and feedback by email. That
survey and where to send comments can be found o the provincial website.  The
process includes questions for feedback around a number of the Higgs
Government's priorities for the budget, including the education system,
improving local governance and investments in health.
—-