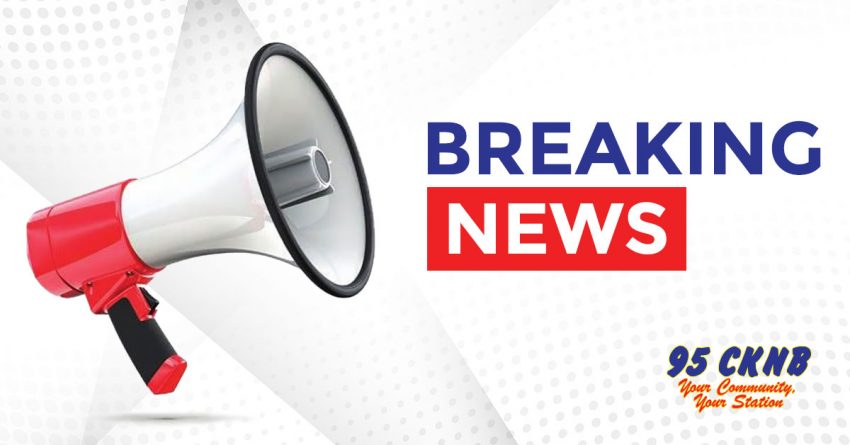 CKNB NEWS UPDATE TUESDAY JANUARY 19 2021
—-
CAMP-BRIDGE CLOSURE
Starting today you can expect a lane closure at Salmon Boulevard.
The closure comes to allow inspection of the JC Van Horne Bridge.
It starts today and runs until Thursday from 730am-6pm.
the tribune reports Cyclists and pedestrians are not affected but motorists
can expect delays.
However, the schedule is dependent on weather conditions
——–
NB   TEACHERS UNION vs CARDY
The union representing teachers in the province has come out against the
government's decision to keep schools open even when a health zone has been
moved to the red phase of recovery.
Education Minister Dominic Cardy announced the change in policy on Sunday,
saying schools in the Edmundston-Grand Falls region would remain open despite
the growing outbreak there moving the region back into the heavily
restrictive red phase.
Brusnwick News reports the New Brunswick Teachers' Federation and New
Brunswick Teachers' Association of francophone educators quickly reponded
with a letter to Cardy decrying the decision –  and asking how schools can be
kept safe; why teachers have spent so much time preparing for  at home
learning if schools were just going to stay open; and how the trust between
teachers and the government can be maintained when they weren't consulted on
the change and were only informed of it minutes before Cardy made the public
announcement.
—-
*MONDAY-NB LANGUAGES
Premier Blaine Higgs is appointing two commissioners in the coming weeks to
undertake a review of the Official Languages Act.
The Premier says the commissioners will present a final report with
recommendations to the government by December 31st this year.
In addition to the formal review of the Official Languages Act, the
commissioners will be asked to identify ways to improve access to both
official languages for all New Brunswickers.
Higgs noted that currently less than 50 per cent of students who graduate
from the anglophone education system have the ability to speak both English
and French.
——
NB-COVID
Another 26 cases are being reported in the province yesterday…9 are in
Saint John region, 7 each in Moncton and Fredericton, 2 in Edmundston and 1
in the Bathurst region. The Miramichi region is still COVID free.
All cases are self isolating and under investigation.  There are currently
304 active cases in New Brunswick, but only one patient is in hospital.
With the number of cases turning up in the three largest cities in the
province…Moncton, Saint John and Fredericton….the premier and chief
medical officer of health are considering whether to move them to the red
phase and its much tighter restrictions later this week.
Some numbers also appear to be coming down in other parts of the country.
Quebec and Manitoba reported their caseloads have eased a little in recent
days, although Ontario and further west remain high.  There are just under
74,000 active cases across Canada. The number of deaths continues to climb to
18,120.
–