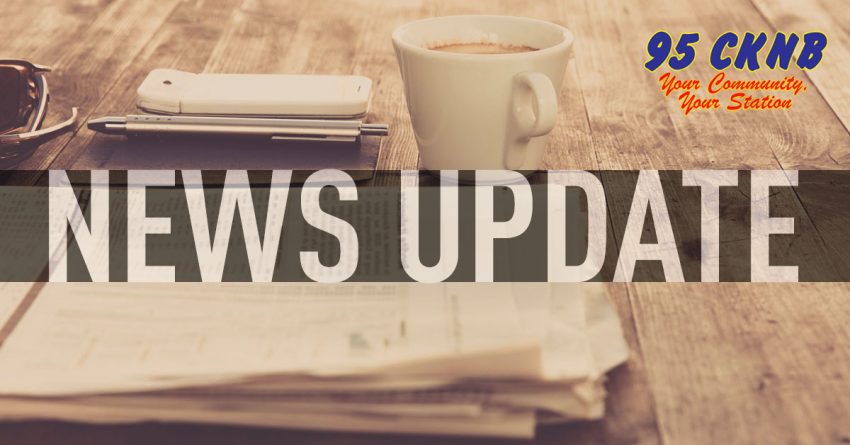 CKNB NEWS UPDATE TUESDAY JANUARY 21 2020
—-
NB/CAM – PIG IRON EA
Maritime Iron's proposed 1.5-billion-dollar iron plant in Belledune has filed
for it's environmental impact assessment with the province.
Vice-president Elena Mantagaris tells the Telegraph Journal the request makes
it an official project.
Environment Minister Jeff Carr says the assessment process amounts to a lot
of work and there no clear timeline as public and First Nation consultations
will also have to take place.
Officials have said the facility would provide 1-thousand construction jobs
and 200 permanent jobs helping to mitigate the closure of Brunswick Smelter.
—-
NB/CAM – FIRE
A fire Sunday morning in Campbellton has displaced a family on Arran Street.
Campbellton Fire chief Rick MacNaughton tells the Tribune the department was
called out shortly before 8:45.
14 firefighters attended the scene and were met with heavy smoke conditions
coming from the second story of the home.
The family got out safely with no injuries reported. The cause of the fire is
under investigation.
—-
CAM – RECYCLING ON RRSC
Campbellton's curbside recycling program has been added to the Restigouche
Regional Service Commission Website.
The program which starts the week of February 3rd differs from others in the
region as garbage collection remains on a weekly basis with recycling every
second week.
The large recycling bins on on Arran and Matheson Streets in Campbellton will
be removed on February 10th.
City crews have been out delivering the more than 18-hundred blue bins needed
to get the system up and running.
—-
CAM – CORRECTION STORY
Campbellton has turned to a human resources firm to help find a general
manager for the Civic Centre.
Council has agreed to pay 'R2 Employment Solutions' more than
18-thousand-dollars to lead the search for a candidate.
The general manager role is a newly created position.
CKNB had previously reported in error that John Leblanc was retiring but that
is not the case.
A city spokesperson tells the Tribune the restructuring of roles will be
determined after the new general manager for the Civic Centre is hired.
—-