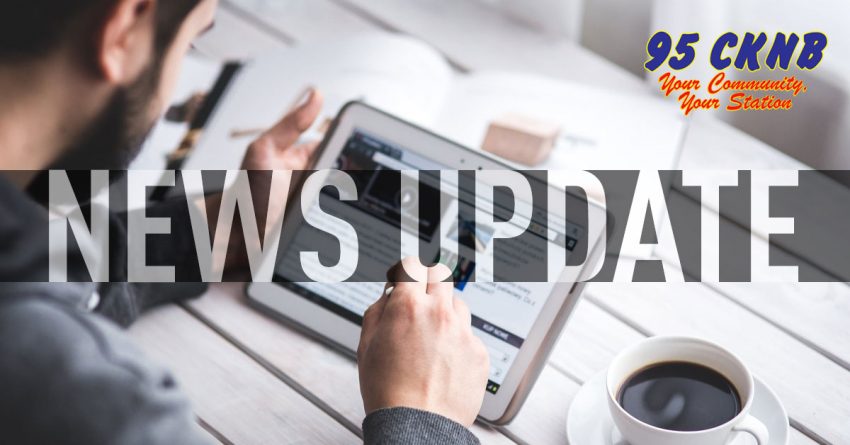 CKNB NEWS UPDATE TUESDAY JUNE 16 2020
CAM/MIR/NB – YOUNG PERV
A 15-year-old boy is facing child pornography charges after allegedly sharing
sexual images of minors on the Acadian Peninsula.
Police say the investigation into the teen started in November of last year
when several complaints came in of a person using intimidation to have girls
under the age of 14 send nude pictures.
On May 27th police executed search warrants at two residences taking several
electronic devices and arresting the 15-year-old.
The boy has been released and is facing charges of luring, possession, and
distribution of child pornography. He returns to court in October.
——–
CAM – PAULIN ON HOSPITAL
Campbellton Mayor Stephanie Anglehart-Paulin says having the Cambpellton
Regional Hosptial ER closed is unacceptable.
The mayor expressed frustration in her latest Facebook update at hospital
procedure that sees nurses working on various floors including the COVID
unit.
Anglehart-Paulin says she feels when COVID-19 was moved from the Manoir in
Atholville to the hospital more should have been done to protect workers.
——–
CAM – LISTUGUJ CHECKPOINTS
Listuguj has announced they are taking down the security checkpoints
established for COVID-19 measures today. (MON)
Officials say based on the latest public health advice they are dismantling
the entry points, but are prepared to reinstall them at anytime should the
virus worsen in the community.
The checkpoints have been in place for 88-consecutive days and monitored 24/7
to ensure that people only entered or exited the community for essential
reasons.
—-
NB/CAM – NGOLA OPTIONS
The lawyer for the doctor at the center of the COVID-19 outbreak in
Campbellton says they are exploring their options after Premier Blaine Higgs
refused to apologize.
Joel Etienne tells the Tribune Dr Jean Robert Ngloa has three or four options
and they are discussing whether to seek one or a combination of them.
Etienne says the options are asking for Premier Higgs resignation, calling
for an inquiry into what Ngola feels are leaks of private information, or
filing a lawsuit.
Higgs has offered no apology and said last week he never identified or made
any specific reference, other than that the individual was a health care
worker, so he stands by his statements.
——–
CERB EXTENSION
The prime minister says Canadians having trouble finding a job amid the
COVID-19 pandemic shouldn't have to worry about maxing out federal emergency
benefits.
Justin Trudeau says his government is working on a plan to extend the benefit
for Canadians who have been unable to return to work.
The most recent data shows that upwards of 8.4-million Canadians have applied
for the Canada Emergency Response Benefit, which offers two-thousand dollars
per month for a maximum of 16-weeks.
N-D-P Leader Jagmeet Singh says his party won't back a massive spending
proposal on the table Wednesday unless there's a plan in place to extend
CERB.
—-
ALL-Police-Poll
A new poll suggests more Canadians are questioning their trust in police as
protests against racism and police brutality sweep sweep through communities
here and around the world.
70% of respondents to the Leger and the Association for Canadian Studies poll
say they trust the police "a lot" or "somewhat."  However, that's down 9%
since May and 11% since April.
Respondents were evenly divided over the idea of prioritizing the police
hiring of visible minorities.