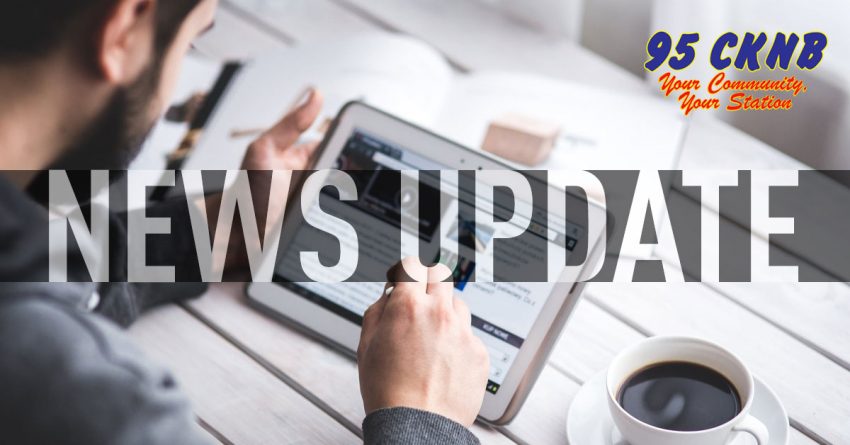 CKNB NEWS UPDATE TUESDAY MARCH 10 2020
—
CAM – TASTE THE PLACE
The City of Campbellton has put out a request for proposals for someone to
operate the bar and restaurant at the Restigouche River Experience Centre.
Officials say the proposal must create and authentic tourist destination
unique to the Restigouche Region while expanding on current partnerships.
The bidder must also aim to increase the attractiveness of the culinary area
and the center in the eyes of the local community.
The request for proposals closes on April 7th.
—-
CAM – TIGERS PLAYOFFS
The Maritime Hockey League playoffs start this weekend with the Campbellton
Tigers clinching third place and squaring off against the Edmundston Blizzard
in the best-of-seven semifinal.
The first game is Friday in Edmundston with game-two coming back to
Campbellton.
First place Summerside faces Fredericton in the other north semifinal.
In the south… Amherst takes on the Pictou County Weeks Crushers while Truro
goes against first place Yarmouth.
—-
CAM – INCOME TAX
The Campbellton Centennial Library is hosting free income tax clinics today,
tomorrow, and Thursday.
A statement by the library says an appointment is necessary to call ahead.
Clinics will be held today from 10:00am to noon and 1:00 to 5:00 with
appointments on tomorrow from 1:00 to 5:00 and 6:00 to 8:30.
Individuals must file their income tax returns by April 30th with
self-employed returns due on June 15th.
——–
NB – BUDGET PROMISE
New Brunswick Finance Minister Ernie Steeves has dropped some hints about
what to expect in today's budget.
Steeves says there will be a significant increase in helath care spending and
for the department of social development. He's also hinted the budget could
contain tax cuts.
Steeves says his second budget has met the governments goal of reaching a
125-million-dollar surplus.
While Steeves and members of his government have met with both People's
Alliance and Green Party MLAs to go over the budget details, it remains
unclear if the budget will have the support it needs to keep the PC minority
government in power.
——–
NB – COVID TRAVEL
In a brief memo to parents and guardians Education Minister Dominic Cardy
announced all international school-related travel would be cancelled for the
remainder of the year due to COVID-19
The memo sent yesterday also says all children, students, staff, volunteers
and family members who returned from international travel after March 8th
must avoid public schools, early learning facilities, and school district
offices for 14-days after they get back.
The news comes after concerns have been expressed by parents after students
in Sussex and Moncton returned this weekend from trips in Italy and other
European destinations.
—-
NB – BYELECTION CALL
Provincial byelections have been called for the two vacant ridings in St.
Croix and Shediac Bay-Dieppe.
Premier Blaine Higgs has set the date of Monday June 15 to fill what are
expected to be highly contested seats.
The June 15th date hinge on the Higg's government passing the upcoming budget
vote and remaining in power… if not a general provincial election would be
called.
The ridings opened up after the death of Progressive Conservative Greg
Thompson and  resignation of former Liberal Premier Brian Gallant.
—-
NB – VIRUS
THe province says so far 9 people have been tested for Covid 19 in New
Brusnwick, with all tests coming back negaitve.
The province has said it would not be reporting probable cases – so there
could be some delays before an infection in this province is announced.
Brusnwick news reports that the province will only report cases that come
back positive from the lab at the Dr Georges L. Dumont Hospital in Moncton
after results have been confirmed in secondary testing at the National
Microbiology lab in Winnipeg.
—-