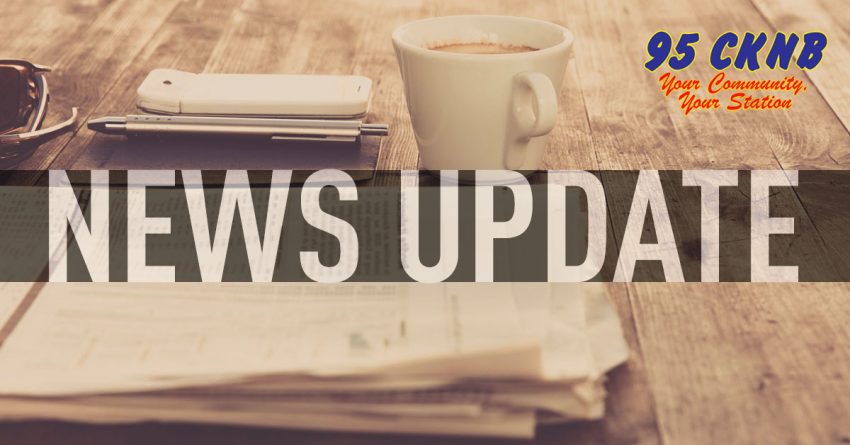 CKNB NEWS UPDATE TUESDAY MARCH 17 2020
—-
CAM – CHILD PORN
A resident of Blacklands has entered not guilty pleas to child pornography
charges.
According to the Tribune 47-year-old Andy Grimes was in Campbellton
provincial court yesterday where he plead not guilty to three charges and
asked for the matter to be heard by judge alone.
The charges of possessing, transmitting, and accessing child pornograhy took
place between May 2017 and July of 2019.
The matter has been set over until April 6th.
—-
CAM – OCEAN CANCELLED
Via Rail has announced it has cancelled the Ocean passenger service between
Montreal and Halifax for the second time this year.
In a release the company says concerns over COVID-19 are the reason behind
the cancellations that will be reassessed on March 27th.
The only passenger train service in the Maritimes makes several stops on its
way to Halifax including Amherst, Cambellton, Moncton, and Miramichi.
The company says passengers with existing tickets can change the dates or
receive a full refund.
——–
NB-Closures
Dr. Russel is is urging people who can stay home to do so, and for everyone
to practise social distancing.  She said the time to act is now to limit the
spread of this virus, particularly to our most vulnerable residents.
Dr. Russel is recommending the closure of most public spaces such as
theatres, performance spaces, swimming pools, spas, sauna and water parks,
other recreational sites like ski resorts, amusement parks, dance, spinning
and yoga centres. She also recommend theatres close and Cineplex, the
nation's largest theatre chain is doing that.
—-
NB – DAYCARE RECOMMENDATION
Chief Medical Officer Dr. Jennifer Russel is recommending the closure of
daycares saying the time is now for all to act to limit the spread of the
virus.
At yesterday press conference Russel said some daycares should be excluded
such as those that provide service to essential workers such as health care.
She also urged other public spaces such as arenas, zoos, swimming pools, and
performance spaces to close.
Premier Blaine Higgs said if these facilities choose to ignore the
recommendations they are doing a great disservice to the community.
—-
NB – URGENT CARE ONLY
New Brusnwickers can expect to have their elective and non-urgent procedurres
cancelled or  postponed in the coming weeks.
Dr. John Dorien, Chief of Staff for Horizon Health,  says both of the
province's health networks are now focussed on urgent care only.
Dorien says anyone scheduled for elective surgeries and procedures will be
contacted. Dorien says the measure is being taken to reduce the risk of
spreading Covid 19 in hospitals – and says it will also free up space and
staff.
—-
NB – HIGGS on 811
Meanwhile, Premier Blain Higgs also issued a public plea yesterday for people
who aren't experiencing symptoms to stop tying up the provinces  811 service.
Higgs is asking  anyone not presently showing symptoms not to call and to
instead direct their general inquires and to the provincial and federal
government websites.
The premier also called on New Brusnwickers to stop hoarding at stores –
saying supply lines have not been interrupted and that the panic buying is
simply causing unnecesary short term shortages and hardship for others in
need.
———–
ALL-Timmies
If you usually stop at Tim Hortons on your way into work there are changes
this orning.
Timmies is only offering drive-thru, takeout and delivery services.  You
won't be able to sit down and enjoy your coffee in the dining area.
So lineups may be longer, although with more people working from home, it may
even out.
—-
ALL-Coronavirus-Trudeau
The prime minister has announced that, with a few exceptions, Canada is
closing its borders to people who are not Canadian citizens or permanent
residents. One of the main exceptions is Americans who will still be able to
travel to Canada.
In addition, anyone — including Canadian citizens — showing symptoms won't
be permitted to board flights home from other countries.
—-