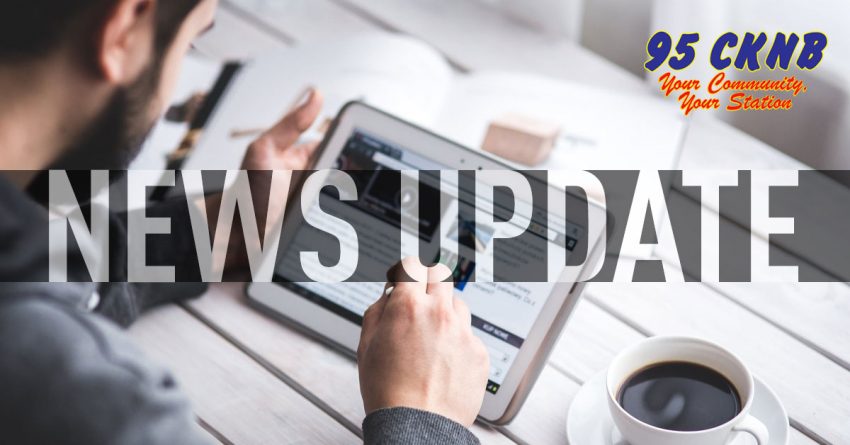 CKNB NEWS UPDATE TUESDAY MARCH 31 2020
CAM – PAULIN UPDATE
In her latest update Campbellton Mayor Stephanie Anglehart-Paulin says there
are too many people in the city are still not self isolating after travel.
The mayor says everyone needs to act as if they have the virus in order to
slow its spread and only go out when essential.
—-
CAM – FOOD DELIVERY
The Restigouche Community Transport is switching from transporting people to
assisting vulnerable people in both Restigouche and Chaleur who need things
delivered.
Organizer Chantal Bernard tells the Tribune the service is geared towards
people who can't get out due to self-isolation or quarantine.
Bernard says the client will call in to the pharmacy or grocery store for an
order, a volunteer will then pick it up and leave it on their porch to
maintain physical-distancing protocal.
Those without a car can qualify for the service. You can contact Restigouche
Community Transport for information or to volunteer as a driver.
—-
CAM – NON RESIDENTS
The Listuguj Council says they are aware of growing concerns in the community
of non-residents entering Listuguj for non-essential purposes.
A release by council says the health and safety of residents is the number
one priority and they are working with the governments of New Brunswick and
Quebec around restrictions into the community.
The release says these talks include measures put in place to ensure on-going
access to essential services for residents.
—-
CAM – STILL POT
Officials have confirmed Cannabis NB in Campbellton is not closing as part of
COVID-19 measures.
A Facebook post by Downtown Campbellton had indicated the store at City
Centre Mall would be closing.
Spokesperson Sarah Bustard tells the Tribune the store is open from 11:00am
to 6:00pm, but did say stores can close sometimes due to staffing issues.
With restrictions crossing the bridge to Listuguj the closest outlet to buy
cannabis if the Campbellton store closed would be Bathurst.
——–
NB – COMMUNITY SPREAD WIRE
New Brunswick's chief medical officer is reporting community transmission of
COVID-19 in the province.
Dr. Jennifer Russell says the province is seeing an increase in cases that
can't be directly or indirectly traced to travel.
Russell says it's more important than ever that people with symptoms
self-isolate and others follow social distancing rules and go out only for
essential errands.
The province is reporting two new cases for a total of 68.
Across Canada we have over 74-hundred cases and 89 deaths.
—-
NB – REALLOCATION
The province has reallocated about 40 government workers including libraries
to help implement the 9-hundred-dollar emergency income benefit.
The benefit for workers or self-employed people who lost their jobs due to
COVID-19 will be administered by the Red Cross and was announced last week to
help bridge the gap between now and coming federal aid.
Government spokesperson Erika Jutras tells CBC the redeployment is mandatory,
but everyone is co-operating.
Provincial workers will helping with the application process which opened
online yesterday or by calling the Red Cross.
——–
– TRUDEAU – WAGES
Prime Minister Justin Trudeau unveiled new details about the government
subsidy that will cover 75-percent of employee wages for companies impacted
by Covid-19.
Trudeau says eligibility for the Emergency Wage Beneift will be expanded to
cover all impacted workplaces.
Trudeau says companies that can afford it are expected to pay the remaining
25-percent of salaries.
The PM also warned against anyone or any company that might try to take
advantage of the system, promising those who do will be dealt with harshly.
—-
ALL-Deaths
Newfoundland and Labrador has recorded Atlantic Canada's first death from
COVID-19.
The 78-year-old man who died had underlying health conditions and is related
to a cluster of 111 cases linked to a St. John's funeral home.
Total number of cases in Canada is now over 7,400 with 89 deaths in Canada
and two Canadians who have died in other countries…Japan and Brasil.
—-
ALL-COVID-Military
Canada's military is preparing in the event it's called on to help provinces
cope with the COVID-19 crisis.
Chief of Defence Staff General Jonathan Vance says the Canadian Forces are
also prepared to deploy in the event of spring flooding or forest fires while
communities grapple with the coronavirus.
Commander of Maritime Forces Atlantic, Rear-Admiral Craig Baines, says the
crews of HMCS Moncton and HMCS Ville de Quebec are being sequestered in a
hotel in what he calls an "extremely cautious" step to ensure they aren't
exposed to COVID-19. They will be there for two weeks before they head out to
sea ready to help any coastal community that needs it.
—-