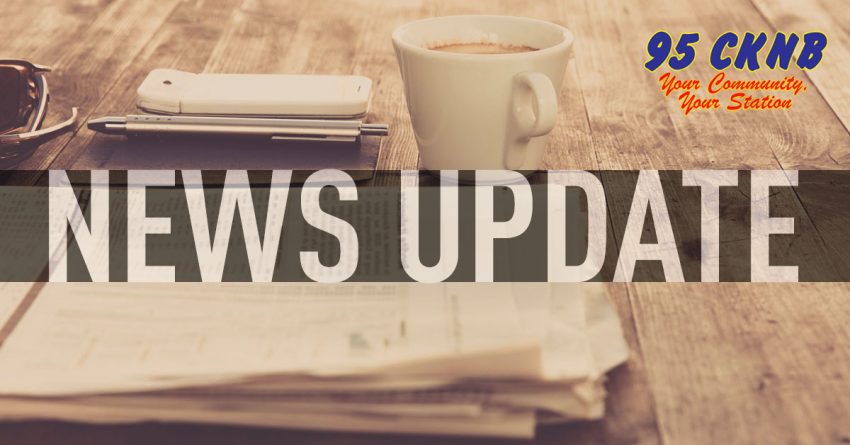 CKNB NEWS UPDATE TUESDAY OCTOBER 1 2019
—-
CAM – QUILT SHOW
The popular Where Friends Gather quilt show is back for its 10th year this
week.
Being held on Friday the 4th and Saturday the 5th… the show has been a
favorite of quilters from all over the Maritimes.
The event is being held at the Charlo Golden Age Club on McIntrye Street in
Charlo and opens at 10am daily.
Bed turnings take on Friday at 11, two, and five with Saturday's features at
11 and two that afternoon.
—-
CAM – ZENABIS PAX
Zenbais Global continues to expand its product lines as its licensing targets
in Atholville have been reached.
The company has announced it will supply PAX Era Pods with cannabis extracts
to be used in a branded oil vaporizer.
The move is in anticipation of law changes that will allow the sale of
cannabis extract by the federal government in addition to edibles and
topicals.
Zenabis will be one of five national suppliers.
—-
CAM/NB – FLAG RAISING
Sugarloaf Senior High in Campbellton has made history as the first New
Brunswick school to permanently fly the Mi'kmaq Grand Council flag.
The flag raisings ceremony held yesterday was in conjunction with Orange
Shirt Day that promotes awareness of the impact of residential schools.
Elders of Listuguj First Nation, students, staff, and parents participated
in the ceremony that saw the flag smudged before being raised beside the
Canadian and provincial flags.
The flag bearing a red cross and five pointed star will now be flown with its
two counterparts permanently.
——-
NB-Fredericton-Shootings
800 people lined up outside a hockey rink in Fredericton yesterday for the
start of jury selection in the case of the man accused of killing four people
in a shooting spree last year.
Nobody was picked on the first day. They were split into groups of 50 and the
first two group will go to the courthouse today to be questioned.
Their job would be to decide whether Matthew Raymond is mentally fit to stand
trial on four counts of first-degree murder in the deaths of Bobbie Lee
Wright and Donnie Robicheau and police officers Sara Burns and Robb Costello.
—-
NB – MOOSE HUNT
It was a big year for the moose hunt in New Brunswick with almost 3700
animals being harvested.
Preliminary numbers show its a slight increase over last year with over
82-percent of licensed hunters being successful.
According to CBC provincial records indicate this as the third largest moose
hunt in the 59 years they have been keeping track.
Date compiled from this hunt will be used to calculate the number of licenses
for the 2020 draw.
—-
NB – MILK PRICES
If you happen to be in Nova Scotia it might not hurt to stop and grab some
milk.
According to Global News there is as much as a 27-percent difference between
milk in New Brunswick as compared to our neighbors to the south.
Minimum retail prices between the provinces vary by just 80-cents but that's
the minimum…. milk at some stores in Moncton is $7.29 for four litres, but
in Amherst… only 45-minutes away… it's $5.27.
New Brunswick's Farm Products Commission says market conditions have forced
Nova Scotia to sell closer to the minimum set price although dairy farmers
are paid the same.
—-
NB-Nursing home workers
Unions representing nursing home workers are preparing to put what Premier
Higgs calls the government's final contract offer to a vote.
Premier Blaine Higgs offered raises over four years of 1%, 1.25%, 1.5% and
1.75%, but workers would have to give up two sick days per year.
Higgs said he hopes it can be wrapped up within two months.
Shannon Teare, president of the New Brunswick Council of Nursing Home Unions,
tells CBC he won't have to wait that long… they're ready to vote on it now.
She says the overwhelming communication received from nursing home workers is
that they are angry…very angry. Teare wants the government to realize that
nursing home workers are tired of working in poor conditions.
—-