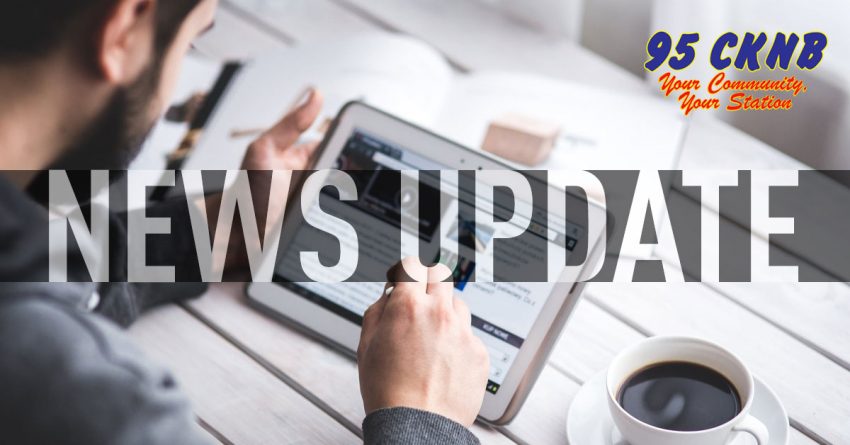 CKNB NEWS UPDATE TUESDAY SEPTEMBER 8 2020
—-
CAM – ELECTION WISH LIST                        BILL/TRIBUNE                    TUE AM
Campbellton city council is putting together a wish list for candidates and
party leaders in the provincial election.
Mayor Stephanie Anglehart-Paulin tells the Tribune they are looking at
including the new K-8 anglophone school as well as when the building of the
Youth Mental health center be completed.
Anglehart-Paulin says they will also include the Visitor Information Center
and hospital services at Campbellton Regional Hospital.
The Restigouche Regional Service Commission has also written and met with
government over services at the hospital recently saying they continue to
diminish.
——-
NB -Back to school  2
It's a back to school day like no other.
Anxious parents will have to drop their kids off outside the front
doors…not allowed to accompany even the younger ones inside the school.
Other parents are leaving it up to the school bus drivers to get their kids
safely to and from school. Inside, students will have to get used to wearing
masks and abiding by social distancing practices.
Education officials are expecting there will be hiccups as everyone gets used
to the new normal.
—-
NB-Advance polls  update
Advance polls are open again today after record breaking numbers of people
turned out on the first day Saturday.
63,000 New Brunswickers, 45% more than last year, cast their ballots so they
could avoid lineups at polling stations on election day – the 14th. Officials
are expecting large numbers to vote early again today. Those advance polls
are open from 10:00am to 8:00pm and you can find the locations of the advance
poll in your area on your voter information card.
You can also vote this week by special ballot at any returning office and
officials say they have seen a big increase in requests for mail-in
ballots….all as people try to avoid crowds on election day this coming
Monday.
—-
NB-Election-Greens, NDP and PA
Green Party's David Coon says he would increase the minimum wage to $15 per
hour and guarantee sick leave, vacation and paid overtime for all workers,
pointing out the pandemic has revealed how many front-line workers in grocery
stores and other sectors are undervalued.
People's Alliance leader Kris Austin promised to help tourism operators and
small businesses to rebound from the pandemic.
The NDP's MacKenzie Thomason was campaigning in Saint John and met with the
Saint John chapter of Black Lives Matter.
——–
NB – LIBERAL CANDIDATE GONE
Liberal Leader Kevin Vickers has announced John Gardner will not be running
for the party in the St. Croix area due to offensive comments on social
media.
In a release late yesterday Vickers stated Gardners previous comments are
offensive to women and the LGBTQ community.
Vickers says the unspecified comments are inconsistent with the party's
values and its unfortunate the people of St. Croix will not have the choice
to vote Liberal.
There has been no comment from Gardner on whether he will continue to run as
in independent.
—-
NB – SMART METERS
The New Brunswick Energy and Utilities Board has approved the implementation
of smart meters.
The lengthy ruling issued on Friday paves the way for the 110-million-dollar
project saying a review of outcomes shows benefits to ratepayers outweigh
potential costs.
Smart meters or advanced metering infrastructure take away the need for most
meter readers and claim to better track usage, although some in other
provinces claim bills go up when their installed.
The meters will start being installed this year and the ruling has given NB
Power a three year time frame to make the changes.
—-
NB – MICHAUD OUT
P-C leader Blaine Higgs has dropped one of his candidates after learning he
re-posted a Facebook message containing transphobic language.
Higgs says he was disturbed by the re-posting of a transphobic meme by Roland
Michaud who was running in the riding of Victoria-La Vallée.
It suggested physical violence against transgender women when they use
restrooms. Michaud apologized for the post, but says he will not withdraw his
name.
Higgs says he expects the former candidate to take down his signs and will
not be part of the party if he wins the riding.
—-