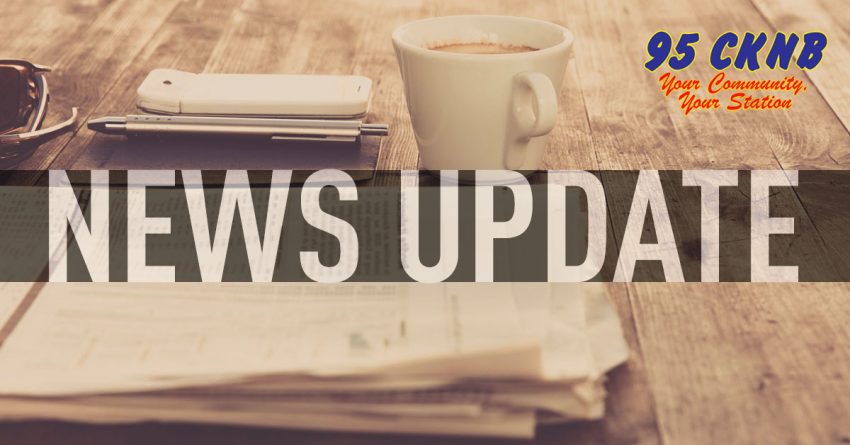 CKNB NEWS UPDATE WEDNESDAY APRIL 22 2020
—-
CAM – BRIDGE LIGHT ISSUES
A tribute to honor recently passed Helen Vanhorne of Campbellton was
unfortunately unable to go ahead as planned.
A release from the city says they wanted to light up the JC Vanhorne bridge
in her honor, but were unable to do so due to an unspecified technical issue.
Helen Vanhorne passed away on April 11th and was the wife of J Charles
Vanhorne who while MP of the area successfully lobbied to have the bridge
built.
—-
CAM – 134 BRIDGE DELAYS
Both the Eel River Bar bridge and Nash Creek bridge on Route-134 won't see
any repair work until at least 2021.
DOT spokesperson Jeremy Trevors tells the Tribune schedules for these
projects were adjusted in order for the department to obtain federal funding
for the work.
A bridge inspection in 2017 showed the Eel River bridge had a low overall
assessment with damage to concrete abutments and deck areas disintegrating.
The Nash River bridge didn't fare well either with an inspection revealing
load bearing issues which is why it is currently under weight restrictions.
—-
CAM – TIRE SLASHER
The RCMP are trying to identify a person of interest after at least 17
vehicle tires were punctured at 11 different Campbellton locations over the
weekend.
Police say the acts of vandalsim occured late Friday night and early Saturday
morning.
RCMP have now released a photo of a person of interest captured on
surveillence video who they are seeking to identify.
The individual appears to be a man, roughly six feet tall, wearing a ball
cap, dark coact and light hood. He's als described as walking with an awkward
gait.
Anyone with information is asked to contact the Campbellton RCMP or Crime
Stoppers.
——-
NB – FATALS COMBINED
A 25-year-old man has been killed in all-terrain crash in southern New
Brunswick.
The R-C-M-P says the driver is believed to have lost control of the A-T-V,
which rolled into an embankment at a gravel pit last night in Pennfield.
Police also say a 28-year-old man from Cap-Pele was killed last night when a
motorcycle ran into the back of a transport truck on the Trans-Canada Highway
in Moncton.
The crash is under investigation but speed is believed to have been a
contributing factor.
—-
NB/PEI – SHOOTING WIRE
Questions are emerging in Nova Scotia about the lack of an emergency alert
during one of this country's worst mass killings.
RCMP said they relied on Twitter because of the instantaneous manner as a
superior way to communicate during the ongoing threat, but many have
questioned its effectiveness.
Nova Scotia Premier Stephen McNeil said the province's emergency alert system
was ready to go, but wasn't used because no request was received at the EMO
Office from the R-C-M-P.
Police have confirmed the 51-year-old gunman who was impersonating an RCMP
officer killed 22 people in five different communities from Saturday night
through Sunday noon.
—-
NB – COVID SCRIPT
The number of COVID-19 cases in New Brunswick remains at 118 after no new
cases were reported yesterday.
Chief Medical Officer, Dr. Jennifer Russel says 102 cases are resolved and
announced a new online system for checking test results.
Russel says people who are tested can now check for their results online as
soon as their available instead of anxiously waiting for a call from public
health.
They will be given a code to access the results on myhealthnb.
Across Canada there are now over 18-hundred deaths and more than 38-thousand
cases.
—-