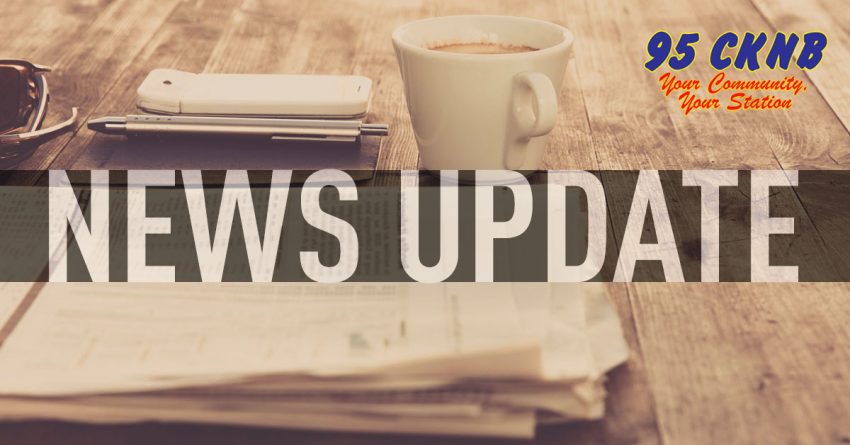 CKNB NEWS UPDATE WEDNESDAY AUGUST 26 2020
—
CAM – PELLETIER ON AMALGAMATION
The mayor of Dalhousie says its time for the province to look at
regionalization or outright amalgamation to do whats best for taxpayers in
smaller communities.
Normand Pelletier tells the Tribune its time for the government to wake up
and smell the coffee and take concrete actions to get results.
Pelletier made the comments as a meeting is to take place with Campbellton to
discuss ways to work together to try to save money when it comes to regional
use of facilities and other services.
The mayor says the Regional Service Commission doesn't seem to want to help
with cost saving efforts and maybe Dalhousie and Campbellton should pull out
and do it themselves.
—-
CAM – PRIDE EVENT                       BILL/RELEASE                    WED AM
Campbellton Pride will be holding the raising of the LGBTQ+ flag tomorrow
morning on Facebook live.
The event will take place at 11:30 on the Campbellton social media with
Lieutenant Governor Brenda Murphy doing the honors along with city officials.
Like most events Pride celebrations have looked much different across the
province with most parades and flag raising taking place online.
—-
CAM – JUNK LAWYERS
The Campbellton Community Planning and Housing Committee has decided that
legal action is needed against residents that refuse to clean up their
properties.
According to the Tribune the committee heard about properties that have been
told to get rid of junk and have not acted.
Councillors agreed one specific property on Thompson Road would be forwarded
to city lawyers as the Restigouche Regional Service Commission has exhausted
all its powers on dealing with the matter.
Another property on Matheson was also addressed by council saying its one
that needs to be addressed.
——–
NB – ABORTION FUNDING
During a campaign stop on Monday … New Brunswick Liberal Party Leader Kevin
Vickers said he would fund out-of-hospital abortions.
Vickers speaking with CBC says not funding surgical abortions in clinics is
limiting access therefore contravening the Canada Health Act.
The move is a change from Vickers predecessor Brian Gallant who in 2014
loosened some restrictions around the procedure, but would only agree to
cover abortions performed in hospitals.
Blaine Higgs has long said legal advisers have told him the province is not
contravening the Act and legislation would not change, although Otttawa has
been in vocal disagreement of that advice.
—-
NB – FISHING LICENSES
Ottawa has started distributing more than 322 banked commercial fishing
licenses to First Nations in the Maritimes.
A release says 10 of the licenses have been given out to Elsipogtog and
ES-CAN-OH-BAH-DIGH  First Nations in the province as part of the Rights and
Reconciliation Agreements signed last year.
The full bank of licenses were set aside after a Supreme Court of Canada
ruling in 1999 stating Indigenous fishers have a right to make a moderate
livelihood from the fisheries.
Federal officials will not confirm when more will be distributed telling CBC
negotiations with individual bands are confidential.
—-
NB – FINANCES GOOD
The latest economic outlook by the Bank of Montreal says the New Brunswick
economy will see the second best rate of recovery in Canada.
The data shows a 1.2-percent growth beyond pre-pandemic levels by next year
with PEI the only other province anticipated to see growth beyond
one-percent.
Chief economist Douglas Porter tells CBC …. the numbers showed the
Maritimes fared much better than the rest of the country and can almost
operate close to normal now.
As for the rest of Canada …. the report wasn't as rosy showing the economy
isn't expected to bounce back until 2022.
—-
NB – CAMPAIGN
New Brunswick Liberal leader Kevin Vickers says if his party is elected he'll
direct health authorities that no rural hospitals are to be closed or any
emergency room services eliminated.
He also warned …. the Progressive Conservatives could bring back a plan to
cut services. The Higgs government previously abandoned a plan to cut
nightime ER serivces at rural hospitals.
Meanwhile Higgs spent much of yesterday in the Moncton area talking about his
10-year-housing plan.
He says his givernments budget also committed 5.4 million dollars towards
increasing social assistance rates and says 151 new subsidized housing units
will be created within the next two years.
Peeople's Alliance Leader Kris Austin was in Miramichi; where he promised to
make a drug rehabilitation faciklity for the area a priority….and Green
Party Leader David Coon visited
—-
NB-DOCS
New Brunswick doctors say health care should be the top priority in the
provincial election campaign because the system has been stagnant for too
long.
The New Brunswick Medical Society says the province continues to struggle
with a shortage of health-care professionals and hospital beds and some of
the longest wait times for surgeries and emergency care in the country.
Liberal Leader Kevin Vickers while in Sussex promised to prevent health
authorities from closing rural hospitals and emergency rooms if his party
wins the election.
Vickers says the Tories still want to close E-R's but Progressive
Conservative Leader Blaine Higgs repeated again that he won't cut emergency
room services.
—-