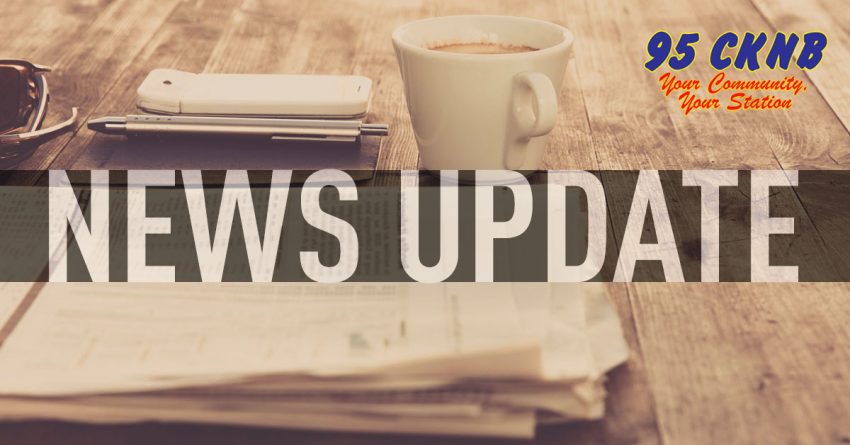 CKNB NEWS UPDATE WEDNESDAY AUGUST 5 2020
—-
CAM – RIVER CLOSURE CONT
The Department of Fisheries and Oceans has announced the daytime fishing bans
in some parts of the Restigouche River will continue.
A release late last week by the department says because of continued warming
and low water levels fishing from 11am to 6am the next day is prohibited
until further notice.
The ban stretches from Morrissey Rock to where the Restigouche and Kedgiwick
Rivers meet and was first announced at the end of June.
Officials say the notice applies to all fishing including catch and release.
A new notification will be released once the ban is lifted.
—-
MIR/CAM – ARMED ROBBERY
RCMP are investigating an armed robbery that took place in Shippagan late
Monday night.
Police say a man entered the Needs Convenience store on First Street shortly
before midnight armed with a knife and demanding money.
The man fled with an undisclosed amount of cash and tobacco products. No one
was injured.
A police dog brought in was unable to locate the suspect who is described as
six-feet-tall, skinny build with a pointy nose. He was wearing dark clothing
and a face covering.
Anyone with information is asked to contact RCMP or Crimestoppers.
—-
CAM – BORDER TRAFFIC
Border restrictions may have lifted, but there wasn't a significant increase
in the amount of traffic coming across the JC Van Horne Bridge this weekend.
According to the Tribune about 25-hundred cars came across on the first
two-days of the Quebec bubble compared to 22-hundred that normally cross on
Saturday and Sundays.
Concern over the construction on the bridge appeared to be unwarranted as
well as with very few delays reported due to the lane reduction.
Listuguj Chief Darcy Gray does say with school starting next month more
dialogue needs to take place regarding Listuguj students who attend Sugarloaf
Senior High School.
——-
NB – LEGERE PAROLE
Notorious serial killer Allan Legere has applied for day parole.
According to CTV, Legere, now in his 70s and believed to be in an Edmonton
prison, is seeking day parole to take part in community-based activities to
prepare for release on full parole.
Known as the Monster of the Miramichi, Legere committed a serious of heinous
murders throughout the late 80s terrorizing the province.
The application for parole is no way guaranteed, but activists say its a
constant reminder to victims families and the communities of the pain caused
by Legere.
—-
NB/NS/PEI – COVID UPDATE
No new cases of COVID-19 were reported in any of the Atlantic provinces
yesterday and active case numbers continue to fall.
Two cases remain active in Nova Scotia along with three in Newfoundland and
Labrador… there are none in New Brunswick or Prince Edward Island.
Meanwhile, Doctor Theresa Tam says the Public Health Agency of Canada expects
to be dealing with the pandemic for as long as three more years.
She says there will be a lot of questions surrounding a vaccine — including
when will an effective version be available and will there be enough for the
entire population.
Across Canada we added over 750 cases yesterday as we approach 118-thousand
and there were 11 more virus related deaths bringing that number to 8958.
—-
MCTN/NB – CAMP FIRES
Riverview RCMP are reaching out to the public after two suspicious camp fires
on a remote property in Albert County.
Police say they received reports of two small camps being burnt near Albert
Mines Road on Friday afternoon.
The area is known locally as Underground Lake Road or Smith Road and access
to the area of the camps is limited to ATV or by foot.
Police determined the fires are connected and were deliberately set sometime
between 11am on July 30th and 11am July 31st.
—-
NB – ELECTION TEST
The head of Elections New Brunswick says they are ready for an election, but
would prefer to test new pandemic safety measures in a by-election first.
According to CBC, while addressing a standing committee yesterday chief
electoral officer Kim Poffenroth stated testing things on a small scale would
be preferential as opposed to a full-scale general election.
Poffentroth also says there are a series of things she would like to pilot
such as telephone voting that she would not have the authority to institute
during a general election.
During the hearing several MLAs made it apparent they did not want a general
election during the pandemic, something Premier Blaine Higgs has yet to fully
rule out.
—-