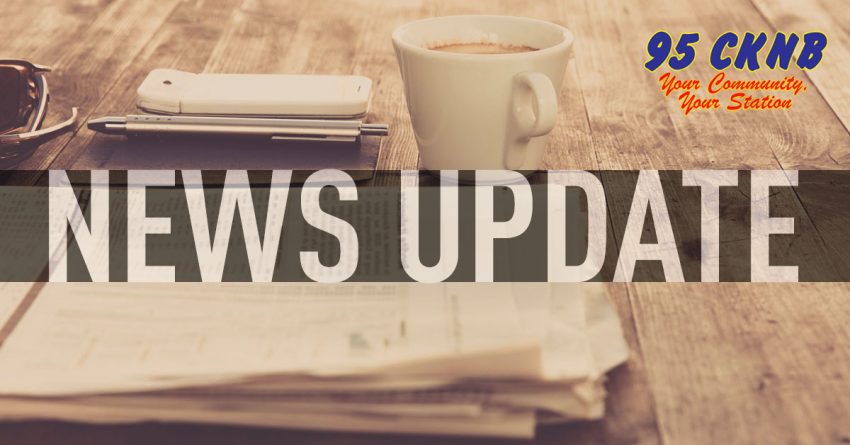 CKNB NEWS UPDATE WEDNESDAY DECEMBER 19 2018
CAMP HOLDING BACK THE TAXMAN  RF
Campbellton taxpayers are getting a break, as there will be no increases
regarding property taxes and water rates next year.
However, Campbellton's property tax rate remains one of the highest in the
province.
In nearby Balmoral, they're also holding the line on property taxes, but
water and sewer rates will go up 21 dollars per year, to five hundred
dollars.
—-
*CAMP PARADE RAGE  RF/RCMP
45-year-old Paul-Emile Kelly is up on charges due to raising a ruckus at the
Santa Claus Parade in Tracadie over the weekend.
He first started stirring-up trouble in a coffee shop, and then continued to
do so during the parade.
He's facing counts of uttering threats to a police officer, resisting arrest,
and breaching conditions.
—-
*CAMP ACOA  RF/ACOA
Johnson Enterprises, in the Campbellton area, is getting a
100-thousand-dollar repayable loan from ACOA, according to
Madawaska-Restigouche MP Rene Arsenault.
That cash will be used to buy specialized equipment used in the aerospace,
defense, shipbuilding, and forestry industries.
NB-PARAMEDICS  GG/
Paramedics in New Brunswick will no longer have to be bilingual to serve some
areas that are primarily unilingual.
The change by the minority Tory government is being made despite a judicial
review of language requirements for ambulances, which is due to begin next
month. Health Minister Ted Flemming says ambulances should not be sitting
idle just because fully bilingual paramedics can't be found.
—-
NB-Tourism workers needed              (CBC wed.am)
The province's tourism industry needs workers…and Tourism operators are
hoping older people and immigrants will fill some of those seasonal
positions.
David Campbell, head of a consulting firm hired by the industry to research
the workers shortage told CBC there just aren't enough people  available to
work the whole Tourism season and it's becoming a real issue.
There are a couple of options…one is to attract more international students
into the college, university system and then encourage them to work in
tourism jobs in the summer. Another is workers 55 and older who might like to
just work a season job than year round…and would like things like health
benefits.
CARBON TAX SCAM  RF/COPS
Police are warning you about a new scam regarding the carbon tax scheme.
People have been getting calls from fraudsters claiming they can help save
money on the carbon tax.
The caller prattles on about the so-called savings, offers a chance to cap
the carbon tax, and claims to have a 30 dollar rebate "available
immediately."
The potential victim is then asked for personal financial information.
If you get such a call, hang up.
—-
ALL-Oil-Sector-Help
Ottawa's plan to help the energy industry deal with the downturn in oil
prices is getting a lukewarm response from the business sector.
The Calgary Chamber of Commerce says Ottawa's announcement of
one-point-six-billion dollars in financing is encouraging. But it won't
provide the stability the industry needs.
Alberta Premier Rachel Notley says more pipelines, more crude by rail, and
changes to federal legislation is what is needed to get the highly in-demand
resource.