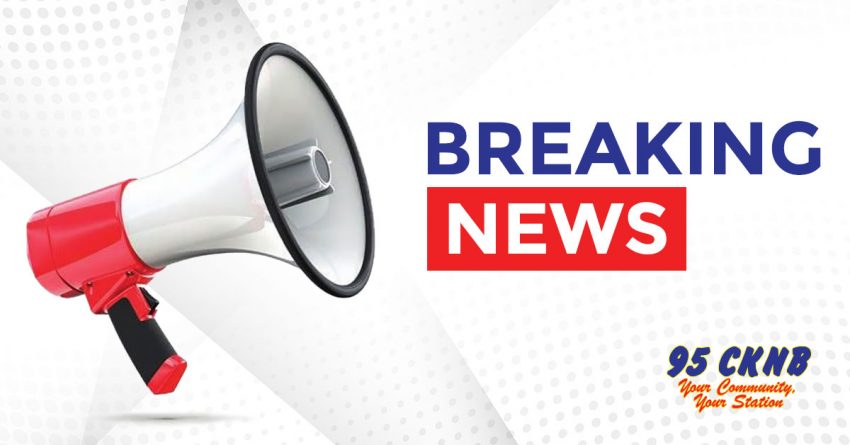 CKNB NEWS UPDATE WEDNESDAY DECEMBER 23 2020
—-
NB/CAMP-HOMICIDE
A 43-year-old man from Val-d'Amour, has plead guilty to charges in connection
with the homicide of 71-year-old Lucille Maltais.
The charges stem from an incident back in 2016, when members of the
Campbellton RCMP were called to a house fire on Rue Melanson, where the body
of a woman was found inside the home.
investigations deemed the fire had been deliberately set and her death was
deemed a homicide.
Charles Alex Maltais was arrested and charged with second-degree murder and
arson
He pleaded guilty to one count of manslaughter and one count of arson.
He is scheduled to return to court in February for sentencing.
—-
CAMP-DEATH OF A MAYORS SON
Mayor Normand Pelletier has received condolences from Dalhousie town council,
following the death of his son in an accident at home last Friday.
Deputy Mayor Gail Fearon, chaired the regular monthly meeting in Pelletier's
absence, offering council's condolences to the mayor and the town's volunteer
fire department, of which Yves Meunier-Pelletier was an active member.
A Gofundme drive has been started to assist
Meunier-Pelletier's widow, who is 33 weeks pregnant. the goal of $10,000 has
been passed by over $50,000
—-
CAMP-ORDER OF NB
Two local residents have received the Order of New Brunswick, for their
contributions to their communities and their province.
the late Dr. Dennis Furlong of Dalhousie, and Alida Léveillé-Brown of
Campbellton have been honored with the award
Dr. Dennis Furlong was a long-time physician and businessman in Dalhousie,
and a former provincial cabinet minister.
Alida Léveillé-Brown is being honoured for promoting education and the status
of women in the area.
—-
CAMP-NEW DUGGOUTS
Dalhousie town council is seeking grants to replace the dugouts at Dodger
Field next year
At the regular council meeting on Dec. 21, council acknowledged
Council got approval of a grant from the New Brunswick Children's Foundation
in the amount of $7,500, to assist with the cost to upgrade the baseball
field to meet safety standards
Clerk-Treasurer Gilles Legacy tells the tribune the town is working with a
baseball committee to get funds
—-