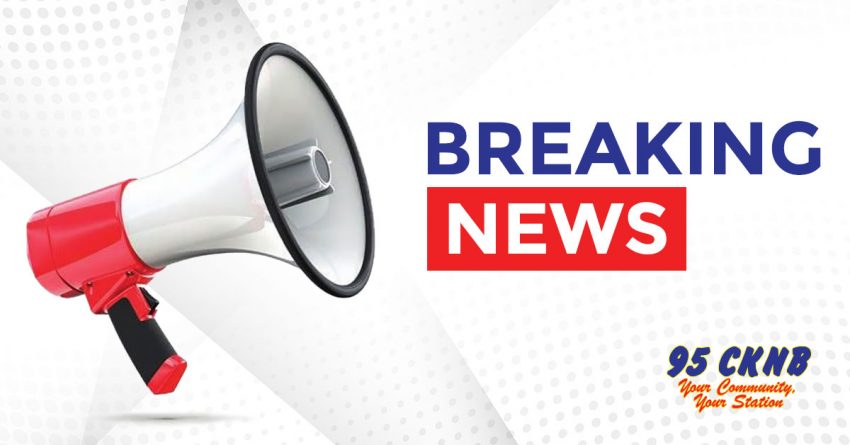 CKNB NEWS UPDATE WEDNESDAY DECEMBER 30 2020
—-
CAMP-CHARLO AIRPORT
The Charlo Airport Authority is looking to expand after a major setback.
PAL airlines discontinued all flights from Charlo with the last flight
departing yesterday and will now be stationed in the Greater Moncton Roméo
LeBlanc International Airport.
Many people depended on PAL's regular flights for work in Newfoundland.
In an interview with CBC – Brad Mann, who sits on the Restigouche Regional
Service Commission and on Charlo Airport's board of directors, said they're
hoping to expand, citing four unnamed companies in talks with the airport
Charlo Airport is one of the few in Atlantic Canada that experienced growth
in 2020
——-
CAMP/MON-PUBLIC HEALTH EXEMPTIONS
The Moncton Wildcats were given exemption that allowed them to keep
practicing during a covid-19 outbreak in October even though organized sports
were prohibited.
While New Brunswick public health exempted the wildcats the Campbellton
tigers had its request denied.
New Brunswick's chief medical officer of health … Dr. Jennifer Russell …
says Zone 5 (Campbellton region) was at the beginning of its outbreak and had
more cases when the team asked for permission
Public Health's exemption allowed the Moncton Wildcats to attend practice but
with stipulations including keeping a log of everyone attending.
no other exemptions were given to New Brunswick-based Q-League teams.
The league will resume play in the new year …. as early as Jan. 21
———-
NB-PREMIER INTERVIEW
Like many other Canadians, New Brunswick's premier is admitting 2020 taught
him a lot about the importance of perseverance.
In a year-end interview with The Canadian Press, Blaine Higgs said the
COVID-19 pandemic forced his government to make some big decisions early in
the year.
Higgs says New Brunswickers were diligent in their role of trying to minimize
exposure to Atlantic Canadians from Quebec and from other areas with high
numbers of infections.
—-
NB-COVID UPD
Two new cases of Covid-19 are being reported in New Brusnwick.
Public Health says the new cases involve a person in their twenties in the
Edmundston region and a person in their fifties in the Bathurst region.
The source of both infections remains under investigation.
There are currently 31 active cases of the virus remaining in New Brunswick,
with three people hospitalized – including two patients in intensive care.
—-
NB-CIVIL SERVANT PAY
The now former head of New Brunswick Power was once again the top paid civil
servant in the province for the 2019-2020 fiscal year.
The Office of the Comptroller's annual report shows Gaetan Thomas, who has now
retired, was paid over 550-thousand-dollars.
His replacement,… Keith Cronkhite and five other NB power executives ….
all grossed between 300-and-400 thousand dollars on the year.
Horizon Helath CEO Karen McGrath and now former Vitalitie Health Network CEO
Gilles Lanteigne also made over 300-thousand.
Premier Blian Higgs was the top paid politician on the list, earning
151-thousand .
The annual list includes pay ranges for any civil servant in New Brusnwick
earning above 60-thousand in annual salary.
—-
NB-RICH DOCTORS
Data from the province shows there were 35 New Brunswick doctors who were
paid more than a million dollars during the 2019-2020 fiscal year.
Brunswick News reports …. its the 5th year that the list containing the
range of payments made to physicians in New Brunswick was publicly released.
The list shows Dr. Martine Finnegan, a diagnostic Radioligist in Moncton,
topped the list after billing the province over 1.9 million.
Second on the list was Sussex based family physician, Dr. Sunita MacMullin,
who billed the province over 1.85 million.
However it should be noted the amount paid out does not necessarily reflect a
physician's full income as it doesn't take into account a physicians
expenses, such as rent or staff salaries.
—-