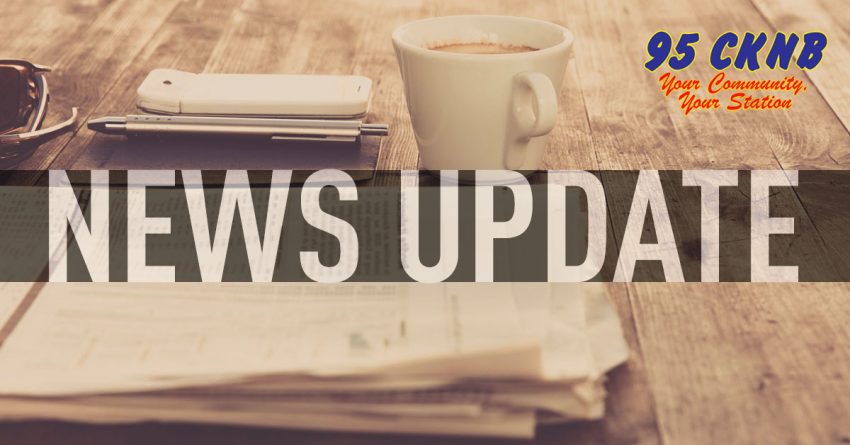 CKNB NEWS UPDATE WEDNESDAY FEBRUARY 12 2020
—-
CAM – ACCIDENT DEBRIEFING
After attending a fatal snowmobile accident last month Dalhouse Firefighters
underwent a debriefing with a professional outside the organization.
According to the Tribune the matter came up at the most recent council
meeting in Chief Herby Hickey's montly report.
Hickey said everyone involved said the session was really good following the
dealth of 22-year-old Logan Harvey.
Mayor Normand Pelletier said the practice should become the norm.
—-
CAM – PRINCIPAL TRIAL
The former high school principal of AQV in Dalhousie has entered a not guilty
plea to fraud charges.
According to the Tribune 48-year-old Chantal Berthelotte (barth-lot) of
Charlo was in Campbellton court Monday to enter the plea.
The single charge of fraud over 5-thousand-dollars is alleged to have occured
between January 2009 and December 2013.
She was charged early last year after school district officials contacted
RCMP about finanical irregularities in 2014. The trial is set for October
5th.
—-
ALL/CAM – VIA-OCEAN   update
There's growing concern for the future of Via Rail passenger service in the
Maritimes.
Via is losing access to a turning loop on Halterm Container Terminal land
near the south end train station in November.
While most cargo trains can operate in both directions, that's not the case
for the Ocean. The majority of cars for the passenger train can only travel
in one direction…thus they need to be able to turn it around.
Ted Bartlett, president of Transport Action Atlantic, tells CTV  government
needs to intervene in this to ensure passenger trains keep running.
(The train also makes stops in Truro, Amherst, Moncton, Miramichi, Bathurts
and Campbellton.)
—-
CAM – MORE CARTS
Campbellton city council is ordering more blue carts to allow some of the
35-hundred residents excluded from the program to take part.
Campbellton's Finance and Administration Committee discussed a number of
complaints from people left out at their most recent meeting reports the
Tribune.
115 additional carts are being purchased to help those that want to recycle
but had been previously excluded.
The Committee also decided to leave the large bin on Arran Street in place
for those not apart of the program.
——–
NB – HEALTH CARE ANNOUNCEMENT
The Higgs Government has confirmed that six rural hospitals will see their
Emergency Departments closed during the overnight hours.
Health Minister Ted Flemming and the CEOs of both major health networks,
confirmed that emergency rooms in Sackville, Sussex, Saint-Anne-de-Kent,
Caraquet, Grand Falls and Perth-Andover will be closed between 10pm and 8am
beginning March 11th.
The province claims those ERs, on average, only saw five patients per night.
The province insists the savings will help cover the cost of hiring nurse
practioners and improving other services.
Liberal Leader Kevin Vickers says he may try to bring down the minority
government over the cuts but People's Alliance Leader Kris Austin says he is
concerned an looking into it before deciding.
—-