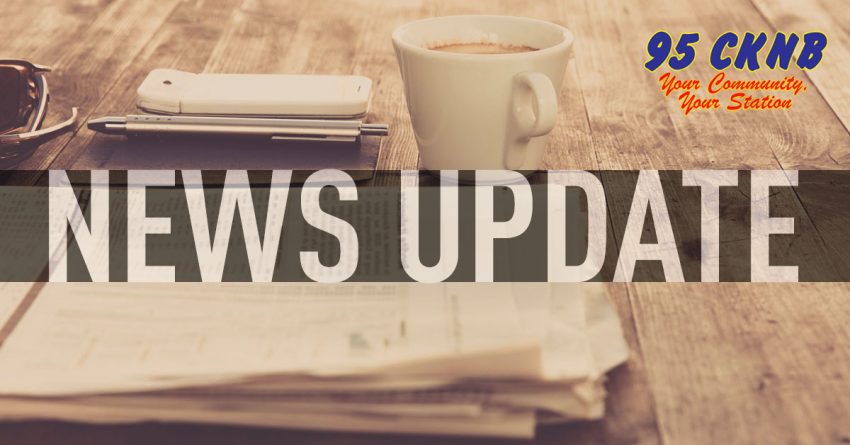 CKNB NEWS UPDATE WEDNESDAY JANUARY 23 2019
*CAMP TAXES DOWN  RF/TRIB
Dalhousie has a treat for taxpayers, as property taxes are going down by just
under a penny per one hundred dollars of assessment.
That's due to a second previous year surplus of just under 37 thousand
dollars.
—-
*CAMP TASER CASE  RF/TRIB
30 year old Kenny Savoie of Campbellton, who has been behind bars since last
fall on charges of assault with a weapon, has been sentenced to time served.
He was nabbed for assaulting a friend and poking him with a taser.
Savoie claimed that his friend stole his wallet.
As part of the deal, he's been banned from owning guns for two years.
—-
*CAMP GARAGE UP IN SMOKE  RF/COPS
The RCMP say a suspicious fire caused hundreds-of-thousands of dollars in
damage at a municipal garage in the Acadian Peninusla on Monday morning on
Acadia Street.
The garage was destroyed, along with a truck, a snow-blower, and other
equipment.
*NB TOURISM  RF/WIRE
The Higgs government says the province tops this year's list of French
newspaper Le Monde's destinations to discover.
Tourism Minister Robert Gauvin says it's the first time Le Monde has honoured
a Canadian province rather than a country, and New Brunswick and New York are
the only North American destinations on this year's list.
—-
NB/SJ – OLAND TRIAL
The Dennis Oland retrial resumed yesterday with his brown jacket the focus of
questioning.
Day 22 of the trial began with testimony from the officer who was in charge
of seizing items from Oland's home a week after his father's death. Constable
Dave MacDonald also testifed about the infamous brown jacket seized from the
home which featured prominently at the first trial.
MacDonald testified the jacket sat in storage for four months because tags
showed it had been dry-cleaned and they didn't realize what they had.
MacDonald said he concentrated at first on examining the shoes. Then when he
went back to the jacket later he spotted four red stains.
He'll be back on the stand this morning for cross-examination by the defence.
—-
*NS-ALL  ZAMBONI IN DITCH  RF/WIRE
Jake Ross, the Nova Scotian owner of a Zamboni that was pushed into a ditch
by a powerful storm says he's amused the machine is creating a social media
buzz.
Ross put the Zamboni on his lawn decorated with Christmas lights after buying
it at auction as a novelty, and says he couldn't believe it when he spotted
it sitting in a ditch a couple hundred feet down the road when he left for
work on Monday.
—-
*ALL POT WARNING  RF/WIRE
Travellers caught sneaking small amounts of marijuana into Canada could soon
be required to pay fines.
While adults in Canada are allowed to possess and share up to 30 grams of
weed, it is still illegal to bring the drug across the border.
NAT – FOOD GUIDE       GG/WIRE (TUE 4PM)
Health Minister Ginette Petitpas Taylor is touting the newest Canada Food
Guide.
She says it puts more emphasis on what, when and how we eat and less on food
groups and serving sizes. The minister says the updates encourage Canadians
to cook more often. It also recommends we eat more vegetables, fruits, whole
grains and opt to eat plant-based proteins, such as legumes, nuts and tofu.
It also says people should drink more water.
(17)
—-
ALL-Cda-China-Huawei                      (wire wed.am)
The U-S Department of Justice has confirmed that it will ask Canada to
extradite Huawei executive Meng Wanzhou (MUNG' wan-JOH').
This comes after China again urged the U-S to abandon the extradition of
Meng, who remains under partial house arrest in Vancouver after she was
detained December 1st at the behest of American authorities. Meng is alleged
to have orchestrated the use of Skycom, a Huawei subsidiary, to evade
sanctions against Iran between 2009 and 2014.