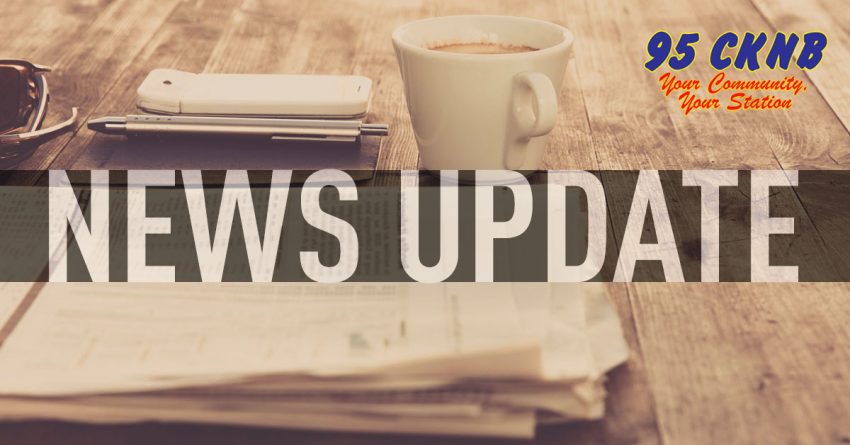 CKNB NEWS UPDATE WEDNESDAY JANUARY 8 2020
—-
CAM – OFFICER CANCER
Donations are pouring in to help beloved RCMP officer and community member
Frank Levesque who was recently diagnosed with stage-four cancer.
News of the rare 'sarcoma' form of cancer came to Levesque at Christmas time.
An exact diagnosis is expected in the coming days.
A GoFundMe has been set up to help the officer with expenses related to
treatments in Halifax Nova Scotia.
As of press time over 17-thousand-dollars has been raised with a goal of
20-thousand-dollars.
—-
CAM – CLC PRESIDENT
Dalhousie native Linda Silas is running for the presidency of the 3.3-million
member Canadian Labour Congress.
According to the Tribune… Silas… the current Canadian Federation of
Nurses Union president… announced her intentions in a letter to members on
January 3rd.
Referring to Dalhousie in the letter Silas said she grew up in a union town
on the North Shore that lost everything and knows how important unions are
for struggling workers.
Current president Hassan Yussuff is stepping down prompting the May election.
—-
CAM – BLUE BIN DELIVERY
Delivery of the new blue bins for curb-side recycling has gotten started by
Campbellton employees.
A statement from the city says the 18-hundred recycling carts will be
distributed by street name over the next few weeks.
The door-to-door recycling program begins the week of February 3rd with the
large bins on Arran and Matheson Streets being removed February 10th.
Officials have said the new initiative could divert over 200 tonnes of
recyclables out of the landfill.
—-
MIR/CAM-B&Es same house
The Tracadie RCMP is asking for the public's assistance with their
investigation into two break and enters and theft in Pointe-à-Bouleau, N.B.
Since November 2019, a residence on Alex Road was broken into on two separate
occasions.
The first break and enter occurred the evening of November 28th. Items that
were stolen include jewellery, a chequebook and money.
The second break and enter occurred on January 4th, sometime between 3:00
a.m. and 4:00 a.m. Nothing was taken during this incident.
——-
NB – FRENCH CHANGES
Education Minister Dominic Cardy says big changes are coming to the French
Immersion program but they will be instituted slowly.
Cardy told reporters a dozen schools will test alternative language-training
models as part of a pilot project starting in September 2020, but details are
currently underwraps.
The Minister says the changes are necessary as the second-language training
programs currently in place haven't been getting results.
People's Alliance Leader Kris Austin recently told the Telegraph Journal he
had been in talks with the Higg's government about scrapping the program, but
Cardy called the statement inaccurate and fear-mongering.
—-
NB – ARSON
A 46-year-old man is facing several charges after someone set a fire in the
entrance of the R-C-M-P detachment in Moncton.
Police say the fire early Saturday morning was quickly extinguished and no
one was injured.
They say a suspect arrested later that day has been charged with arson,
resisting arrest and two counts each of uttering threats and assaulting a
peace officer.
Joseph Jude (Joey) Gallant has been sent for a 30-day psychological
evaluation and is due back in Moncton court on February 3rd.
—-
NB – LEARNING DIES
The founder of Theatre New Brunswick has died.
Beyond New Brunswick, Walter Learning was considered a key figure in Canadian
theatre.
Appointed to the Order of Canada last year, the writer, director and actor
also served with the Canada Council for the Arts, artistic director of the
Vancouver Playhouse and artistic director of the Charlottetown Festival.
Learning was 81.
——-
63 Canadians have been killed in a plane crash just outside Tehran.
Ukraine's foreign minister says the plane carried 176 passengers and crew —
none of whom survived the crash shortly after takeoff. Besides the 63
Canadians there were Iranian, Ukrainian, Swedish, Afghan, British and German
nationals.
Both Ukrainian and Iranian officials say they suspect a mechanical issue
brought down the aircraft and there are no indications it's connnected to the
Iraniam missile attacks on U-S military targets in Iraq.