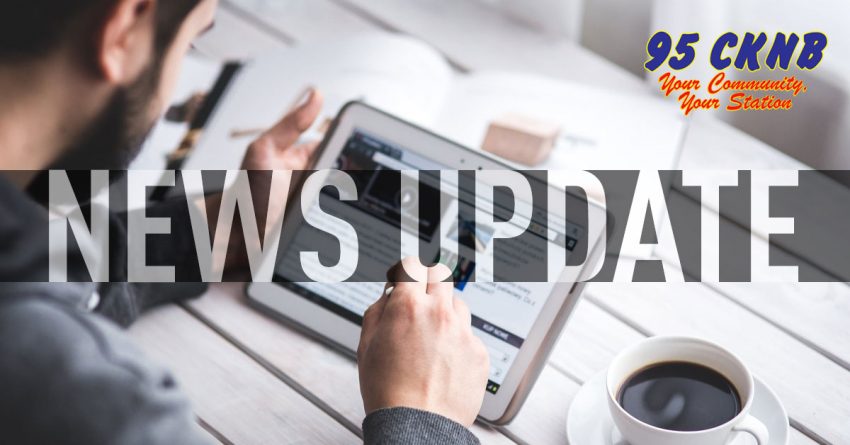 CKNB NEWS UPDATE WEDNESDAY JUNE 10 2020
—-
CAM/MIR – MAYOR ON IRON
The mayor of Belledune says the decision by NB Power to pull out of the
Maritime Iron proposal was a surprise.
Joel Noel tells the Northern Light he was shocked by the announcement the
utility would no longer be part of the 1.5-billion-dollar pig iron facility
plan.
Noel says he understands NB Power's position after looking at the numbers,
but says the project is not dead in the water as Martime Iron looks to work
with the province and local agencies to make it work.
200 permanent jobs have been promised by the company and the mayor says its
hard to put into words how important that would be for the region.
—-
CAM – TURBINE ALMOST
Dalhousie's hydroelectric turbine is 99-percent complete, but COVID-19 is
making that last 1-percent tricky.
According to the Tribune Clerk-Treasurer Gilles Legacy updated town council
on the matter saying things are done here, but training needs to take place
in Ontario.
Legacy says staff, including himself, do not want to travel to Ontario saying
its still a hot spot and they would have to self-isolate for 14-days after
they arrived back in New Brunswick.
The town won't lose any money from the delay and are hoping for a trip in the
fall as things continue to improve.
—-
CAM – CLOTHING DUMP
People continue to dump stuff at the Restigouche County Volunteer Action
Association locations even though they are not taking donations due to
COVID-19
A recent post on the organizations Facebook page showed boxes and bags of
anything from clothes to old TVs.
Officials are asking people to please refrain from dropping things off until
pandemic measure as lifted as the RCVAA has to pay tipping fees to get rid of
the material.
There has been no word on when the organization will be able to accept
donations again.
——-
NB/PEI – BUBBLE RISK
New Brunswick Premier Blaine Higgs says the possibility of a tourism bubble
between his province and PEI is now at risk due to the allowance of season
residents on the Island.
Higgs tells CTV the announcement took him by surprise as people will be
travelling through New Brunswick to get there and new isolation rules may
need to be put in place to allow that to happen.
The premier is most concered with New Brunswick being exposed to travellers
from Quebec or Ontario.
Higgs reiterated last week that New Brunswick will be maintaining border
control and out-of-province property owners not be allowed in.
—-
NB-Moore's family speaks
Grieving family members want justice for Chantel Moore, killed by a police
officer in Edmundston last week.
The family spoke to reporters outside the apartment building where she died.
Her mother, Martha Martin, had just visited her daughter's body at the
funeral home and said it was one of the hardest days of her life, according
to the Times and Transcript. "It's a pain I never wish to inflict on any
person,".
More than a dozen family members arrived from BC Monday and want more
information about what happened that night…but also say they doubt the full
truth will ever be known…."She's not here anymore to defend herself".
—-
NB – WATCHDOG NEEDED
The call for New Brunswick to have it's own police watchdog agency is growing
after the shooting of 26-year-old Chantel Moore in Edmundston.
Green Party Leader David Coon said in legislature yesterday the family of the
Indigenous woman who allegedly threatened police with knife before being
fatally shot… need to know details now… not in six months.
The province has called in the Quebec's serioius incident response team, but
Coon says the process being investigated in secret out of province is cruel
to the family.
Public Safety Minister Carl Urquhart and Premier Blaine Higgs say it would
make more sense to have one such independent agency for all of the Maritimes.
—-
NB/CAM – COVID UPD
The province is asking civil servants to volunteer at the longterm care home
in Atholville struggling to contain COVID-19.
Staffing issue have plagued the facility since the outbreak began and civil
servants even those with no formal health training are being asked to step in
to help.
14 residents and three staff have tested positive at the facility making it
the epicenter of the outbreak in zone-five.
The province also announced one new case yesterday, but it was in the Moncton
region and was related to travel… the person has been in self isolation.
That makes 25 active cases in New Brunswick… 24 of which are in the
Campbellton Restigouche area.
Nationally we have over 96-thousand cases of COVID-19 and 7897 virus related
deaths.
—-
NB – EDUCATION MOVES
The education department is redeploying 70 postions across the four
anglophone school districts.
Spokesperson Tara Chislett tells CBC the changes will include the elimination
of 10 diversity and respect coaches that work with teachers to be more
inclusive to marginalized students.
Chislett says no one will be laid off as a result of the move, but some will
be changing roles to work more closely with students and staff.
Pride in Education Committee co-chair Gail Costello says the changes will put
marginalized students at risk and make it more likely they will be left
behind.
—-