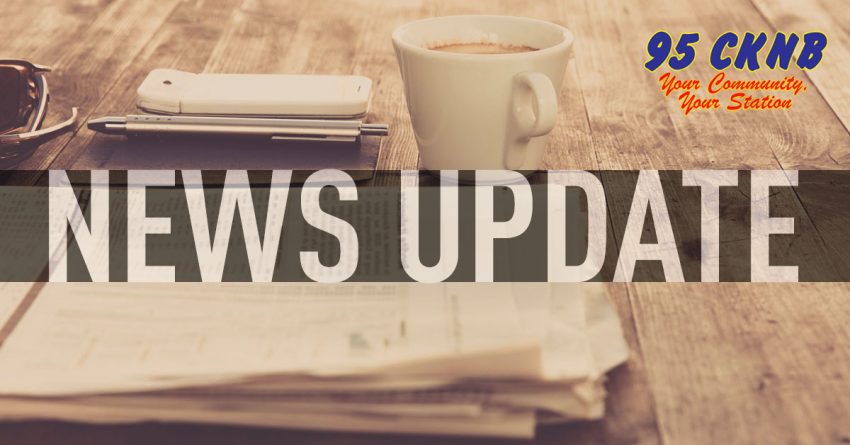 CKNB NEWS UPDATE WEDNESDAY MAY 27 2020
—-
CAM/NB – KEDGWICK RIVER,
The RCMP are investigating after someone in a vehicle alledgely pointed a
firearm at police in Kedgwick River on Saturday.
Mounties say shortly before Midnight on Saturday night a vehicle failed to
stop at checkpoint setup on Route 265.
Police say the burgundy Chevy Tracker SUV drove through the chekpoint at a
high rate of speed, nearly striking an officer.
Police pursued the vehicle, which refused to stop.
RCMP say at one point a bottle was thrown out a window and it's believed a
passanger in the SUV also pointed a gun at police.
RCMP eventullay lost contact with the SUV and have been unable to locate it
since.
—-
CAM – BOIL ORDER STILL
Officials in Campbellton are reminding residents the boil order issued May
18th is still in effect in the city.
The order was declared due to high turbidity level readings and officials say
is likely related to the rapid change in temperature and its effect on the
water source.
Water used for drinking, preparing infant formulas and juices, making ice
cubes, washing fruits and vegetables, cooking and dental hygiene must be held
at a rolling boil for 1 minute.
Dishes and laundry can be washed using tap water. The city will need three
clear tests before being able to lift the ban.
—-
CAM – AIRPORT BUDWORM
The Charlo Regional Airport Authority has been given permission to put up
seven temporary structures this summer for the Spruce budworm spray program.
According to the tribune the matter came up at the recent planning committee
meeting for the Restigouche Regional Planning Commission.
From 1975 to 1990 there was a permanent camp at the airport for the spraying
program and these temporary buildings will be in the same spot.
The buildings will only be in use till mid-July when they will be taken down.
—-
CAM – ATHOLVILLE POOLS
Atholville will not be opening the municipal outdoor swimming pool this
summer.
A statement from council says COVID-19 has forced them to review the way the
pool operates to comply with public health measures and feel it would be
difficult to enforce social distancing.
Mayor Michel Soucy says its a difficult decision, but its crucial to protect
the health of citizens and they do not want the pool to be an environment
where the virus could spread.
The village does hope to open the Splash Pad and are working on a plan to do
so.
——–
NB – NURSING HOME/CASE
The province is looking at loosening restrictions around visiting patients at
New Brunswicks 68 nursing homes.
Social Development Minister Dorothy Shephard tells CBC the COVID-19 task
force is working on a plan to reintroduce family visits.
Shepherd didn't offer a specific plan or timeline, but says families will
likely have to decide amongst themselves which members can visit.
The province also announced another new case yesterday… this one again in
the Campbellton region is a woman over the age of 90.
Dr. Jennifer Russell, chief medical officer of health says the case is under
investigation and did not say if it was linked to the case announced five
days ago in the region.
New Brunswick now has 122 confirmed cases… two of which are active…
nationally we have over 86-thousand with 6639 COVID-19 related deaths.
—-
NB – GRADS GOING AHEAD
Graduation ceremonies in New Brunswick can go ahead as early as the middle of
June.
Education Minister Dominic Cardy told reporters yesterday if legislature can
resume than in-person graduation ceremonies can as well.
Cardy says each school must come up with a plan to ensure the safety of
students, staff, and spectators and says its only possible because of the low
case numbers in the province.
Meanwhile the province announded one new case in the Campbellton region
making for the second active case in a week.
Officials say they are invesitgating the source and the person is in their
90s and not in a longterm care facility.
—-