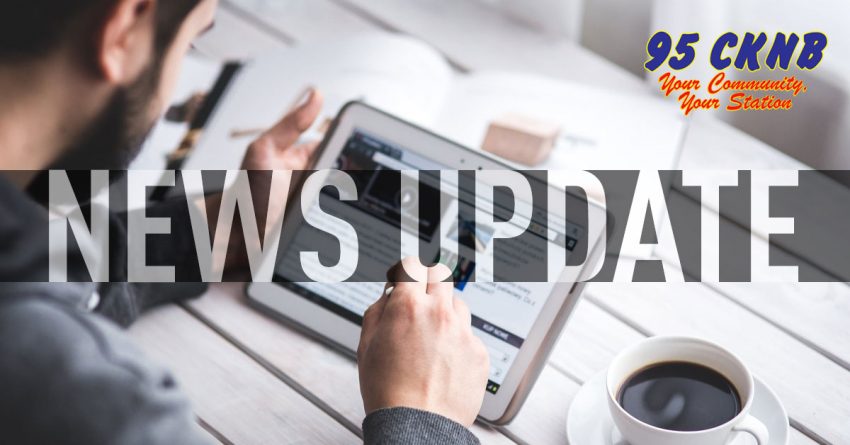 CKNB NEWS UPDATE WEDNESDAY MAY 6 2020
–CAM – PAULIN ON BRIDGE
In her latest update Campbellton Mayor Stephanie Anglehart-Paulin addressed
challenges the border closure has caused on both sides.
Anglehart-Paulin says the bridge restrictions have created issues, but people
must work together and continue to be one big community.
The mayor says there is no need to be nasty to each other on social media and
damage long standing relationships.
—-
CAM – MOTHERHOUSE
The Motherhouse on Arran Street in Campbellton has been sold and will be
converted to apartments for seniors.
Nick Doucette of developers Groupe Fari who purchased the building tells the
Tribune 2-million-dollars will go into preserving and renovating the
building.
The facility will have 30 apartments with several amentities geared for a
senior population such as an on-call nurse and "24/7″ staffing.
The motherhouse will be renamed "Residence le Phare" and its expected some
people will be able to move in come October.
—-
NB/CAM – INDIGENOUS GAMES CANCELLED
COVID-19 has now claimed the New Brunswick Indigenous Summer Games set to be
held in Eel River Bar First Nation this year.
Executive director of Aboriginal Sports and Recreation New Brunswick Cathy
Ward tells CBC they cancelled in light of the recommendations from the
province not to have large gatherings.
Ward says Eel River Bar Chief Sasha Labillois gave her full support of the
cancellation.
The games which are often cited as more of a cultural celebration bringing
people from all over the province together will be held in 2021 in Eel River
Bar.
—-
NB/CAM – BODY IDENTIFIED
Quebec Provincial Police say the body found in the Restigouche River in
Pointe-à-la-Croix has been identified.
According to the Tribune the deceased is 28-year-old Maxime Landry from
Carleton-sur-Mer.
Police say Landry has been missing since Ocotober 10th where he was last seen
in Pointe-à-la-Croix and there is no evidence Landry was the victim of a
crime.
——
NB – COVID AUDIO SCRIPT
After a three week stretch of no new cases of COVID-19 Chief Medical Officer
Dr. Jennifer Russel confirmed a new case yesterday.
Russell says the new case is in zone-3 or the Fredericton region and where
the person became infected is under investigation..
This brings the number of cases in New Brunswick to 119, although 118 of
those are considered recovered.
Russell says finding new cases will be part of the new normal going forward
and is a reminder that following public health measures continues to be
necessary.
Across Canada we have surpassed 4-thousand COVID-19 related deaths with more
than 62-thousand cases.
—-
NB – ELECTIVE SURGERIES
Public Health officials in New Brunswick are beginning to prepare for safely
restarting elective surgeries.
Dr. Chris Goodyear, the president of the New Brunswick Medical Society tells
Brunswick News there are high level meetings taking place on how to start
opening up and what surgeries they will start with.
Goodyear says some of the questions being asked are does everyone need to be
tested before surgery and do they treat everyone as if they have COVID-19
which adds considerable time to surgeries.
Elective surgeries are in the orange phase of reopening and could start in
the next few weeks.
—-
MON/NB – INMATE DIES
An inmate at the provincial jail in Shediac  has died while in custody, but
officials have yet to determine the cause of death.
The province's Public Safety Department says 37-year-old Derek James Whalen,
an inmate at the Southeast Regional Correctional Centre was awaiting a court
appearance when he died.
He was pronounced dead at the Moncton Hospital on Sunday.
The R-C-M-P have been called in to investigate and a mandatory coroner's
inquest will be held.
—-
NB-Legislature operations
The Speaker of the legislature is still trying to figure out how it will
operate when it recovenes later this month.
Speaker Daniel Guitard tells CBC a small number of MLAs could physically sit
in the chamber May 26 while maintaining social distancing.
Allowing all 47 MLAs to participate may mean doing it virtually or possibly
in a larger space like an arena because of all the support staff required.
Guitard says everything is on the table at this point.
Other leaders are concerned about question periods if they limited sittings
to the minimum quorum requirement of 14 MLAs.
—-