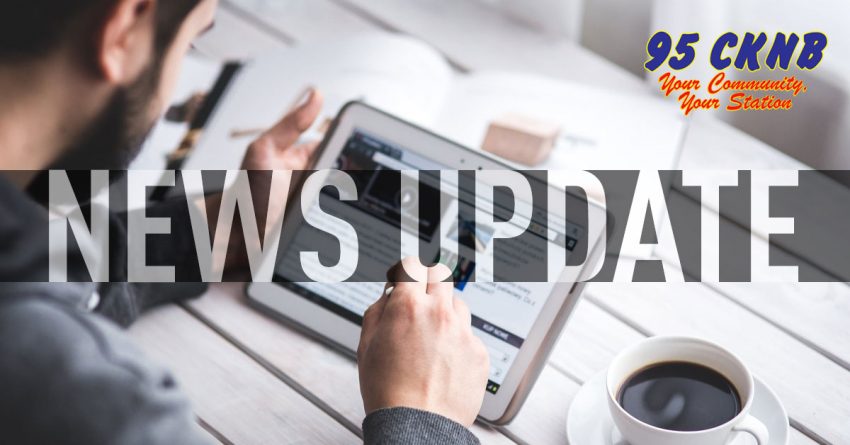 CKNB NEWS UPDATE WEDNESDAY SEPTEMBER 2 2020
—-
CAM – FLED SENTENCE
The man who fled the scene of a collision that killed a Campbellton man in
2018 has been given 12-months in jail.
According to the Tribune 31-year-old Kirk Labillois appeared in court for
sentencing after pleading guilty to two charges including leaving the scene
of an accident involving death.
The collision happened in August of 2018 on Route-11 between the Cove Road
exit in Eel River Dundee and the Craig Road exit in Charlo.
37-year-old Jose Ricardo Fortun was killed and an 18-year-old suffered
serious, but non-life threatening injuries.
—-
CAM – ASSAULT ADJOURNMENT
A judge has adjourned her sentencing decision until October 8th in the case
of a Listiguj man who sexually assaulted his younger brother years ago.
The Tribune reports the man that can not be named to protect the victim
appeared before Judge Suzanne Bernard.
The man was 14 or 15 at the time of the assault and defense council stated he
was sent to prison on an unrelated matter and turned his life around not
getting in trouble since.
Prosecutors are asking for 12-months, but Judge Bernard said it was a
difficult decision and held off her verdict till October 8th.
—-
CAM – BATHURST UPD
Bathurst police say their presence at an apartment building at St.Patrick and
Main Streets over the past few days followed the discovery of bullet holes in
the window and wall of an apartment.
A tenant reported finding the bullet holes on Saturday. Police confirmed
yesterday they executed a pair of search warrants, on Sunday and Monday,  in
the same apartment  – belonging to that tenant –  in connection with their
investigation.
It does not appear anyone was hurt and police are appealing to public for
information about the incident.
——–
NB – SCHOOL CHANGES
A briefing on return to school yesterday focused primarily on class sizes and
changes to music programming.
Officials say class sizes for K-to-2 will stay as close to 15-students as
possible with grades 3-to-5 in the range of 22-students in order to close the
gaps that occurred when schools shut down.
Grades 6-to-8 will return to regular class sizes with increased spacing for
physical distancing when possible.
An about face by the province will now see singing and wind instruments
allowed in music class with protection protocols in place such as students
singing softly or increasing physical distance.
Deputy Minister George Daley says all schools finalized operational plans
will be released on Thursday.
——–
NB – CAMPAIGN INQUIRY
Indigenous leaders in the province say the number one campaign issue for them
is a promise to hold a public inquiry into systemic racism.
Chief Patricia Bernard of the Madawaska Maliseet First Nation tells CBC the
election campaign is an opportunity for all parties to step up and commit to
look at racism in the justice system.
The Green Party, NDP and Liberals have made that commitment, but neither the
Progressive Conservatives or People's Alliance have.
Bernard says she's not sure if rejections of the inquiry is parties digging
in their heels or a show of power, but feels it part of the systemic racism
they face.
——–
NB – Campaign wrap
Most of the campaigning yesterday took part in the southeastern part of the
province.
Liberal Leader Kevin Vickers was in Moncton where he pledged his government
would eliminate the provincial share of interest rates on student loans and
make post secondary education more accessible.
Progressive Conservative Leader Blaine Higgs was also in the Moncton area
touting his government's efforts to protect the environment with further
plans to expand glass recycling, crackdown on illegal dumping and eventually
ban all plastic bottles and single use plastic bags.
Green Party Leader David Coon was was in the northeast promising to set up a
department of rural affairs and community development. Coon says it would be
responsible for creating and implementing a regional development policy,
supporting renewable energy production and protecting agricultural land.
People's Alliance Leader Kris Austin made a number of stops in and around
Sussex, saying he would refocus government agencies, like Opportunities New
Brusnwick, to support small business.
—-