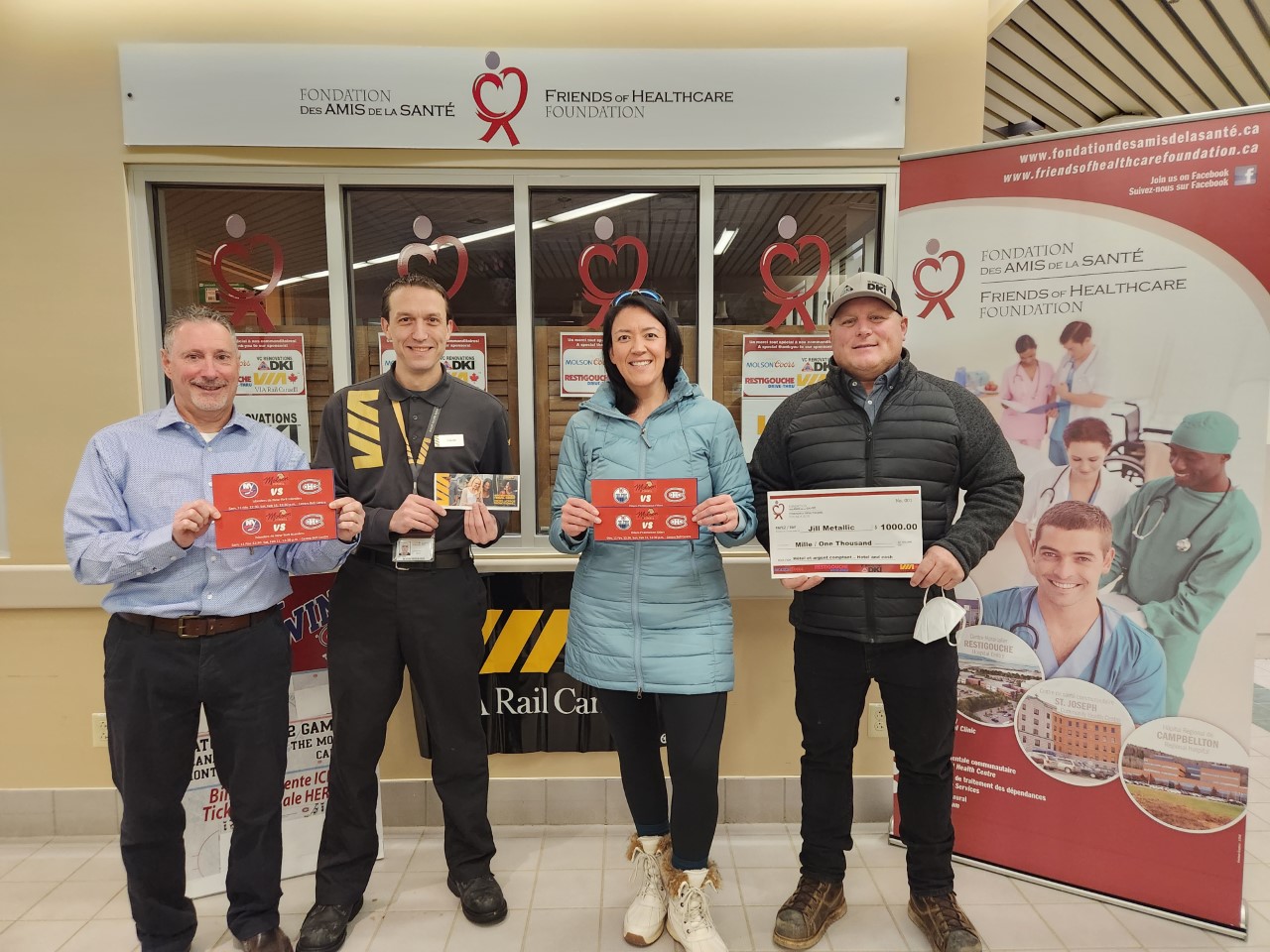 One Lucky Winner and $5,300 for Healthcare in Restigouche County
Campbellton, NB – The Friends of Healthcare Foundation is pleased to announce that the lucky winner of the Montreal Canadiens trip package is Mrs. Jill Metallic. It's easy to see why Mrs. Metallic is happy, she just won a package worth over $4,000, including: great tickets for 2 to attend 2 games of the Montreal Canadiens at Centre Bell – against the Islanders on February 11 and against the Oilers the next day, courtesy of Molson Coors Canada and Restigouche Drive-Thru; round-trip train tickets (in a Sleeper Plus cabin for 2) from Campbellton to Montreal, courtesy of Via Rail Canada; a room for 2 at Fairmont The Queen Elizabeth, as well as $500 spending money, courtesy of VC Renovations DKI! Congratulations to Mrs. Metallic!
This fundraising event enabled the Friends of Healthcare Foundation to raise $5,300! This amount will contribute to purchase medical equipment for health facilities and programs right here in the Restigouche, namely the Campbellton Regional Hospital, the Restigouche Hospital Centre, the St. Joseph Community Health Centre, the Jacket River Health Centre, the E.L. Murray Medical Clinic, the Community Mental Health Centre, Public Health and Region Addiction Services.
"I would like to thank all those who entered the draw as well as those who sold tickets, as over 650 tickets were sold!" said Mr. Jean-Luc Landry, Executive Director of the Friends of Healthcare Foundation. "I would also like to thank our sponsors, Molson Coors Canada, Restigouche DriveThru, Via Rail Canada and VC Renovations DKI for having made this draw possible. I invite you to participate again next year in this annual event."