Take Out the Ace of Hearts for Health
July 18 @ 9:00 pm

-

September 26 @ 10:00 pm
Event Navigation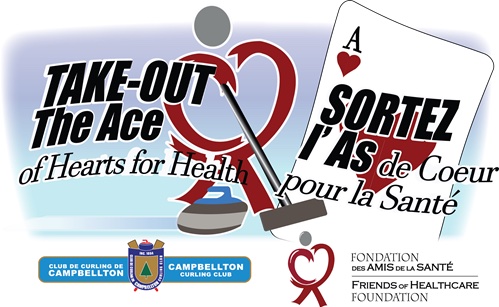 The Campbellton Curling Club have partnered with the Friends of Healthcare Foundation and have changed the name to "Take Out the Ace of Hearts for Health"!
The rules have changed slightly with a different card draw presentation, running live while contacting the winner and each ace having an additional prize value. They will continue live broadcast on their Facebook page. This live feed will also be seen on the Friends of Healthcare Facebook page.
The Friends of Healthcare will be applying their share of the proceeds to vital medical equipment while the curling club will be adding this to our refurbish our facility account. Watch their Facebook pages for announcements and live feeds!
Tickets are available at the following locations:
Guardian Drugs in Belledune
Jean Coutu in Dalhousie
Ramsey St Ultramar Convenience in Campbellton
Sugarloaf Community Market at Sugarloaf Mall in Atholville, Saturday Mornings 9:00am to 12:00am
Friends of Healthcare Foundation office at the Campbellton Regional Hospital, Monday-Fridays 9:00am-16:00pm (ex holidays)
Campbellton Curling Club, Mondays 6:30pm-8:30pm, Tuesdays 9:00am-11:00am and 6:30pm-8:30pm
The draw is held at the Campbellton Curling Club Tuesday nights at 9:00pm.